I Spit on Your Grave (Day of the Woman)
(1978)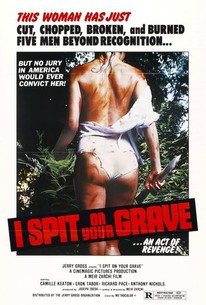 I Spit on Your Grave (Day of the Woman) Photos
Movie Info
In this action thriller, a woman who was raped by four different men in the space of only one day somehow manages to survive and wreaks havoc among those who abused her.
Rating:
R
Genre:
, , ,
Directed By:
Written By:
In Theaters:
On DVD:
Runtime:
Studio:
Anchor Bay Entertainment
Critic Reviews for I Spit on Your Grave (Day of the Woman)
Audience Reviews for I Spit on Your Grave (Day of the Woman)
Here's a film that I've been wanting to see for years. I had heard about how graphic it was, but I have to say I'm a little disappointed. Too much build-up I suppose, or maybe just high expectations. I Spit on Your Grave would make a good double feature along with Deliverance. There's rape and nudity abound in this movie, so if you can't handle things of that nature, I'd suggest passing this one up. This poor lady is raped and beaten seven ways from Sunday and then returns to exact revenge against her assailants (whom amazingly left her alive). My favorite bit is the guy getting a handjob in the bathroom and when he has an orgasm she cuts his penis off... and he doesn't even notice. That must have been one hell of an orgasm. I don't care who you are. If you're in the middle of coming and somebody cuts your manhood off, you're going to notice, and it's going to hurt. She then proceeds to lock him in the bathroom and wait for him to bleed to death. The best death by far, if not incredibly unrealistic. As you can tell, this isn't a terrific film by any means, but it's a bit of a curiosity that most people with a stomach for this sort of thing might want to seek out. The film was remade a couple of years and from what I understand, much of the nudity and violence was cut back. I wonder how much intensity it adds to the scenes. Hmm, maybe we'll see one day.
Tim Salmons
Super Reviewer
Boring. Not bad, just overrated. It wasn't nearly as violent as I thought it would be. I've seen other, more disturbing, more explicit movies than this from the 70s. This movie felt dry. The actors were average, and the story was too. Overall, it's just okay.
½
This classic one is the most notorious pictures ever made during the seventies. I watched this on DVD while it allowed to release in my home country during banned for 17 years by the Australian Classification Board in 1987. It's true! This story is familiar to The Last House on the Left and proved by the likes of Irreversible, films tackling rape in a shocking and disgusting way are more readily accepted, and even gain a strong reaction from many critics. It's one of the exploitation films. There's a genuine film under all the gore and fact that our protagonist spends nearly 80% of the film completely naked. However writer Jennifer Hills' (Camille Keaton) emotions are as exposed as her body, her transformation from normality, to victim, through recovery and finally as executioner.
Dean McKenna
Super Reviewer
I Spit on Your Grave (Day of the Woman) Quotes
| | |
| --- | --- |
| Johnny: | God bless your hands. |
| | |
| --- | --- |
| Jennifer: | Suck it,Bitch |
| Jennifer: | Suck it, bitch. |
| | |
| --- | --- |
| Johnny: | If I ever see you again I'm gonna bust your ass! |
| | |
| --- | --- |
| Johnny: | Where did you stab her? |
| Matthew: | Here where you told me to. |