Il Caimano
(2006)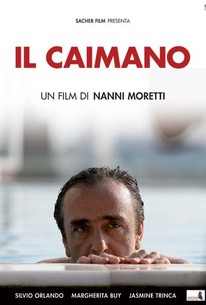 Movie Info
Controversial Italian Prime Minister Silvio Berluscoi is just one of the targets of writer and director Nanni Moretti's satiric focus in this sharp comedy-drama. In the 1970's, Bruno (Silvio Orlando) was one of Italy's most daring and best-respected filmmakers, while his wife Paola (Margherita Buy) was a leading box-office star. However, come the new millennium, things are a whole lot different for Bruno -- Paola is divorcing him, his production company is on the verge of bankruptcy, and he can't get a new project off the ground. When Teresa (Jasmine Trinca), a young woman down on her luck, approaches Bruno with a script, he agrees to take on the project, even though he hasn't read it and doesn't know how he'll raise the money. Bruno discovers he's put himself in hot water when he reads the screenplay and discovers it's a frontal assault on Silvio Berluscoi that doesn't shy away from allegations of his connection to organized crime, tax evasion, bribery and influence peddling. While Italian firms won't dare touch the project, Bruno discovers a Polish financier (Jerzy Stuhr) who will put up the money, but under one condition -- Bruno has to persuade box-office idol Marco Pulici (Michele Placidio) to play Berluscoi. Il Caimano (aka The Caiman) received its North American premier at the 2006 Toronto Film Festival. ~ Mark Deming, Rovi
Critic Reviews for Il Caimano
All Critics (18) | Top Critics (4) | Fresh (7) | Rotten (11) | DVD (1)
[Director Moretti] wraps his political agenda with an affecting story about a fading filmmaker whose dreams and beliefs aren't weathering the storms of middle age. If the politics don't get you, the life empathy will.


A familiarity with the vagaries of Italian politics in the last 20 years is a help, but not a necessity, to appreciate this fascinating at times farcical blend of domestic drama and political rumination.
September 23, 2006 | Rating: 3/4
Globe and Mail
Top Critic
A warm family drama pops through the seams of a film within-a-film about Silvio Berlusconi.
May 22, 2006
Hollywood Reporter
Top Critic
... the film-within-the film wraps, but the willful manipulation of honest citizens continues unabated.
An unfocused mess of a movie that fairly throws its hands in the air in the final act, rather than chug along to a conclusion.
Audience Reviews for Il Caimano
A comparison between two systems, the disastrous life of a film producer, and the calamitous course of a country ruled by a hypocrite and corrupt villain (which is not fiction at all, not only in italy). A satire about power and the odyssey of making a movie about it. funny and with charming performances, nevertheless, some parts of the screenplay and the character played by Jasmine Trinca are a bit weak, and I also think the life of the producer, superbly played by Silvio Orlando, was far more interesting than the political aspects that Nanni Moretti was anxious to denounce, as he did right at the end. but that would be another movie, of course.
Pierluigi Puccini
Super Reviewer
Il Caimano Quotes
There are no approved quotes yet for this movie.
Discussion Forum
Discuss Il Caimano on our Movie forum!