Ilsa, She-Wolf of the SS
(1974)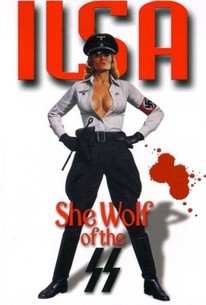 Ilsa, She-Wolf of the SS Photos
Movie Info
One of the most infamous examples of the 1970s glut of sexy-Nazi movies is this gory, sleazy wallow in nauseating excess from director Don Edmonds. Busty Las Vegas showgirl Dyanne Thorne made her cult reputation in the title role as Ilsa, the sadistically depraved directress of Medical Camp 9. It is a memorable performance and was so popular that Thorne was resurrected in similar roles on three subsequent occasions. Despite its controversial themes, Ilsa, She-Wolf of the S.S. is much less of a death-camp movie than a mixture of women's prison thriller and escape film. No mention is ever made of gas chambers or crematoria and most of the portrayals of Nazi men seem to come straight from Hogan's Heroes (this film was made on the sets of that series). In this light, Edmonds' hybrid of gore, sex, and action is far less offensive than it might have been, and Thorne's over-the-top villainess actually makes it somewhat endearing. Although this film isn't the best in the series, and is not for the faint of heart, it has much to recommend it for genre devotees. The makeup effects by Joe Blasco are quite realistic for the time, Thorne's performance is impressively evil, and Richard Kennedy is a hoot as the jovial, piggish General. Jonah Royston's screenplay certainly doesn't skimp on exploitation elements, but it also has enough clever plot touches to satisfy those looking for a real story in between the carnality and carnage. Cult starlets Sharon Kelly and Uschi Digart also appear.
News & Interviews for Ilsa, She-Wolf of the SS
Critic Reviews for Ilsa, She-Wolf of the SS
Audience Reviews for Ilsa, She-Wolf of the SS
Ilsa, She Wolf of the SS certainly deserves its reputation as a nasty-Nazisploitation film. Although it is thoroughly cheesy, poorly acted, routinely directed, and extremely camp at times, the film still packs a punch due to its ability to offend and disgust at every turn; the depiction of Nazi atrocities in the name of entertainment is hard to defend (so I'm not even going to try) and this movie pulls no punches with its well executed graphic violence and horrific torture scenes. Ilsa, played with gusto by chesty blonde Dianne Thorne, is the Kommandant at a concentration camp where she oversees medical research performed on the female prisoners. Meanwhile, she uses the males to try and satisfy her sexual needs (and when they fail, she has them castrated). It is up to German/American stud Wolfe to lead the prisoners in a revolt against the guards whilst simultaneously gaining Ilsa's trust by rogering her senseless at every opportunity. This notorious sleaze classic packs so much depravity into its 96 minutes running time (uncut), that lovers of exploitation will have a field day. From the opening scene in which Ilsa's sex slave is dragged back to the camp to be emasculated, to the ending in which the prisoners exact bloody retribution, sex and violence pervades every frame. The effective make-up FX by Joe Blasco are repugnant enough for hardened gore-hounds and fans of the female form will be delighted by the copious amounts of nudity. And lets not forget the scene in which Ilsa pees on the Nazi general..SIEG HEIL, ILSA!
Cassandra Maples
Super Reviewer
I can't believe this is a real movie! What it lacks in plot in more than makes up for in boobs. Seriously, there' nudity in almost every scene. All the prisoners are naked, and apparently female Nazi officers liked to do thier torturing shirtless. It's only practical. It's really quite astounding just how schlocky this movie is. The blood and gore is excessive, yet not for a minute believable. The torture is too over-the-top to be offensive. Isla is the most cartoonish villain I've ever seen this side of a Disney movie. In fact, she reminds me of a naked, nymphomaniacal mashup between Ursula the Sea-Witch, Jafar and, I don't know, Frollo, maybe? If you get offended by this movie, you've probably missed the point. It exists only to amuse you with its silliness. Either you're in or you're out. I for one, am in.
Emily Armstrong
Super Reviewer
Ilsa, She-Wolf of the SS Quotes
There are no approved quotes yet for this movie.