I'm Not Jesus Mommy
(2011)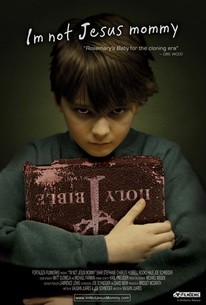 AUDIENCE SCORE
Critic Consensus: No consensus yet.
I'm Not Jesus Mommy Videos
I'm Not Jesus Mommy Photos
Movie Info
This unusual sci-fi thriller concerns Dr. Kimberly Gabriel (Bridget McGrath), a seemingly infertile young woman who will do virtually anything in her power to conceive a child. Through the miracle of modern science, she inherits a cloned son named David (Rocko Hale). For a time, all appears well, until David reaches his seventh birthday, and disasters suddenly begin to plague the earth -- disasters that seem to be emanating from the young boy himself. Dr. Roger Gibson (Charles Hubbell) turns up and admits a long-buried secret: the DNA used to clone David came from the Shroud of Turin -- meaning that the tyke just may be Jesus Christ recreated.
Rating:
R (some disturbing violent content)
Genre:
, ,
Directed By:
Written By:
In Theaters:
On DVD:
Runtime:
Studio:
Critic Reviews for I'm Not Jesus Mommy
All Critics (1) | Fresh (0) | Rotten (1)
Juares is nothing if not ambitious, and he assembles the pieces of the puzzle with clarity (he also edited and photographed the film). But he bites off more than he can chew...
Audience Reviews for I'm Not Jesus Mommy
I'm Not Jesus Mommy (Vaughn Juares, 2010) For the first third or so of its length, save some subpar acting, I'm Not Jesus Mommy is an intriguing little low-budget movie that, on many levels, makes perfect sense. Kimberly Gabriel (Bridget McGrath in her first feature), an obstetrician, is haunted by her own inability to conceive. When maverick researcher Roger Gibson (Living Arrangements' Charles Hubbell) approaches her with a fat government contract and some snake oil about human cloning, she resists at first, but eventually sees the opportunity in light of her own ulterior motives. The obvious question becomes: how far will a woman go to have a baby? Then we skip forward seven years, and everything goes to hell. Earth is locked in the middle of a new ice age. The streets are dangerous, there is little food to go around, and Roger, Roger's sister, Kimberly, and Kimberly's son David are holed up in a small apartment, only going out when absolutely necessary to procure food. The entire remainder of the film takes place in that apartment. Sounds promising, no? And perhaps in the right hands, the final two-thirds of the movie could have been turned into the kind of tense sci-fi thriller that Vaughn Juares obviously intended this to be. But, and isn't there always a "but" after a statement like that?, it...isn't. I'm not entirely sure how to put this tactfully, so I'll go with "I'm not Jesus Mommy rivals The Room for moments of unintentional hilarity." One-room dramas live and die based on the quality of the actors involved, so the "some subpar acting" of the first third, which you can gloss over with everything else going on, takes center stage. Add in a script that leaves out just a little too much to be impressionist and never avoids cliché-in fact, runs headlong into it as often as possible-and you've got something that ends up being a chore to sit through. Don't hit play on this one unless you have prepared yourself for an overdose of cheese. *
Robert Beveridge
The acting was pretty bad. The ruin the movie [SPOLERS] A crazy man tries to clone Jesus. This brings the end of the world. How is not quite clear. There are a lot of gaps in this movie, which would be ok but this movie just wasn't made very well.
John Trifiletti
I'm not sure why they say this movie is a horror film. There wasn't a scary moment in it. It was slow, the main actress was terrible, and the story was confusing. What could have been a really interesting plot, (what if man could clone Jesus),didn't work at all here. Blah, don't waste your money.
Debi Bistodeau
I'm Not Jesus Mommy Quotes
| | |
| --- | --- |
| Dr. Kimberly Gabriel: | Is the position still open? |
| | |
| --- | --- |
| Dr. Kimberly Gabriel: | Everybody's dying. |
| Dr. Roger Gibson: | Dying because of what we did. Do you have any idea where your son came from? |
| | |
| --- | --- |
| Dr. Kimberly Gabriel: | If you could have seen that baby preserved. The way they cut her up, did an autopsy. They took her apart... |
| Dr. Kimberly Gabriel: | If you could have seen that baby preserved. The way they cut her up, did an autopsy. They took her apart. |
| | |
| --- | --- |
| Dr. Roger Gibson: | Congratulations, you have been selected to participate in a human fertility experiment. |