Import/Export
(2006)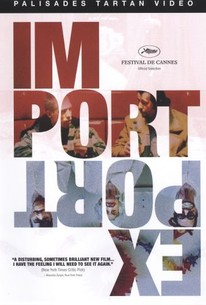 TOMATOMETER
AUDIENCE SCORE
Critic Consensus: A grim and disturbing vision from Ulrich Seidl, makes for an uncomfortable and uncompromising picture of life, that is anything but comfy and pedestrian.
Movie Info
Director Ulrich Seidl's despairing, relentlessly downbeat social drama Import/Export unfolds against the backdrop of contemporary Europe. Olga (Ekateryna Rak) is a single mother struggling to raise her child with a very meager income from her nursing job in a Ukrainian hospital. In desperation, she takes a job as a nude webcam model for an adult entertainment outfit that caters to German men, then quickly decides that life in her town is unbearable, and ultimately leaves her child with her mother, heading west to search for a better life. Meanwhile, in Austria, ne'er-do-well loser Pauli (Paul Hofmann) lives with his mother and his greasy-haired stepfather, Michael (Michael Thomas), to whom he's increasingly indebted. Pauli is training to be a security guard, but gets stripped, then relentlessly beaten and assaulted by a gang of youths. Eventually, Pauli and Michael hit the road together, delivering poker and gumball machines to locations across Eastern Europe, and Michael reveals a truly degenerate side, using his time on the road for a string of sexual encounters with different women. At the same time, Olga makes her way to Austria, enduring a series of occupations including those of au pair, maid, and eventually, charwoman in a geriatric hospital plagued by mistreatment of the elderly.
News & Interviews for Import/Export
Critic Reviews for Import/Export
Audience Reviews for Import/Export
½
This Austrian film directed by Ulrich Seidl was nominated for the Palme d'Or in the 2007 Cannes Film Festival and won the Grand Prix - Golden Apricot reward in Yerevan International Film Festival. Shot in Vienna, Ukraine, Romania, the Czech Republic and Slovakia from 2005 until May 2007, using 16mm and 35mm lenses, gives us feeling of a documentary with real dramatic style. The movie follows Olga - Ukrainian woman from Uzhhorod, and Pauli - young man from Vienna, Austria and gives us insight in their dreams, mistakes, experiences, disappointment and love... Wonderful work of art! After 135 minutes of watching I wanted MORE!
½
The story takes place in both Ukraine and Austria and focuses on 2 lives of very different people who share a similar circumstance of being at the end of the line in the place that they live in. Both seek change and their circumstances take very different shapes and fates but share a similar intention, to find a better life. The director and writer give us little hope in their depiction of 2 lives and how their environments constantly conspire to either keep them down or challenge their will to survive and change. It is a story at once about Eastern Europe and a story about the world's 'lower classes' and their monumental struggle against inertia and their past. It is a movie filled with images, humor, highs and lows, and, graphic scenes of sexual play that all add to the base quality of the human experience that exists not only in Eastern Europe, but, many place in the world.
Dean McKenna
Super Reviewer
Brutally vivid analysis of East/West relations today with an unsparingly honest portrayal of the bleak situations the two main protagonists find themselves in. Easier to admire and learn from than enjoy, however.
Gordon Anderson
Super Reviewer
Import/Export Quotes
There are no approved quotes yet for this movie.