In A Better World
(2011)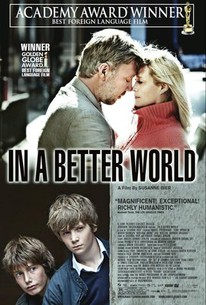 Movie Info
Anton is a doctor who commutes between his home in an idyllic town in Denmark, and his work at an African refugee camp. In these two very different worlds, he and his family are faced with conflicts that lead them to difficult choices between revenge and forgiveness. Anton and his wife Marianne, who have two young sons, are separated and struggling with the possibility of divorce. Their older, ten-year-old son Elias is being bullied at school, until he is defended by Christian, a new boy who has just moved from London with his father, Claus. Christian"s mother recently lost her battle with cancer, and Christian is greatly troubled by her death. Elias and Christian quickly form a strong bond, but when Christian involves Elias in a dangerous act of revenge with potentially tragic consequences, their friendship is tested and lives are put in danger. Ultimately, it is their parents who are left to help them come to terms with the complexity of human emotions, pain and empathy. -- (C) Sony Pictures Classics
News & Interviews for In A Better World
Critic Reviews for In A Better World
Audience Reviews for In A Better World
A challenging meditation on how hurt-induced revenge and the intention of getting rid of a menace can overlap when someone looks for a motive to get even. It could have been much better, though, had it not moved its focus to a minor subject (in comparison) in the third act.
Carlos Magalhães
Super Reviewer
½
Two boys attempt to define masculinity in response to their respective family dramas. This Danish film is oddly both ambitious and contained. Its plot centers around only two families, one wracked by divorce, the other by death, but as the two male children of these families mature, we see that they're struggling with deep and difficult questions. What constitutes "being a man?" What examples do fathers and mothers provide their kids? Where is the line between being a disciplinarian and being a child's friend? What are parents' roles in preventing violence? These are ambitious ethical questions the plot brings up, but as a result of the film's reach philosophically, the plot starts to suffer when each of the film's conflicts resolve too conveniently. Overall, this is a fine, ambitious, and interesting film until its pat conclusion.
Jim Hunter
Super Reviewer
Susanne Bier is one of the greatest directors ever. Simple as that. Her films deal with issues, but always with a fresh perspective. In A Better World has a young boy called Christian who has just lost his mother, return to Denmark. He joins a new school where he soon makes friends with a boy who is being bullied. Christian allows his anger to take hold, and events soon spiral out of control. The theme of bullying may seem like something best saved for after school specials, but Bier shows bullying in all its forms, from the playground, to grown ups, to African warlords. Questioning anger, revenge, and human rights, makes this a multi-layered film which is just begging for discussion. The performances are magnificent across the board and each character has a very well structured arc. With so much going on it would be easy for the film to trip over itself, but it never does. Touching, inspirational, and quite possibly life changing. In A Better World could honestly make the world a better place.
Luke Baldock
Super Reviewer
In A Better World Quotes
| | |
| --- | --- |
| Christian: | No one will dare hit me now. |
| | |
| --- | --- |
| Elias: | Hi Dad! |
| Anton: | Hi sweetie, did we agree to talk today? |