In Fear
(2014)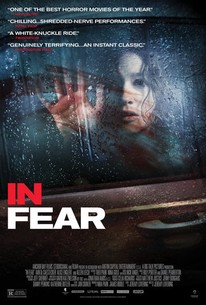 TOMATOMETER
AUDIENCE SCORE
Critic Consensus: Compact and effective, In Fear offers discerning horror fans a smart and disturbing plunge into the depths of cinematic anxiety.
Movie Info
In Fear is a tense psychological horror about a young couple's fight to make it through the night. Home invasion but in a car. In real-time. Tom (De Caestecker) and Lucy (Englert) are trapped in a maze of country roads with only their vehicle for protection, terrorized by an unseen tormentor hell-bent on exploiting their worst fears. Driving, lost and tormented in the night, primal fears of the dark and the unknown give way to fear that you have let the evil in, or that it is already there.(c) Anchor Bay
People Who Like this movie also like
Cast

News & Interviews for In Fear
Critic Reviews for In Fear
Audience Reviews for In Fear
½
In Fear is a well made and unique horror film thanks to its minimalistic approach and tense screenplay. The plot and setting are simple, but the execution is what makes this worthwhile. I was actually getting uncomfortable at times because of how tense this film can get. Revealing anything would give away the plot that slowly reveals itself. It's not going to knock your socks off, but again it is effective and well done. The acting is a little shaking in spots, but nothing terrible. Overall, this worth a trip if you like your horror films to have a little thought to them rather than splatter gore all over the screen.
Josh Lewis
Super Reviewer
½
Didn't even complete this unsuspenseful drivel !
Film Crazy
Super Reviewer
½
This is definitely on the shortlist for one of the year's best horror of the year. Granted, it's still very early in the year, so there's still enough time for other films to surpass it, but I was really into this film. The thing about it is that it relies on the psychological effects of Tom's and Lucy's fight to survie the night rather than on the violence and gore that you normally see with horror films. This isn't a passive-aggressive shot at gory horror movies, some of which I very much enjoy, but it's always great to see a movie that creates a very compelling, intense, and, quite frankly, disturbing horror film without relying on all the usual crutches. The villain in this film is also one of the better horror villains since Robin McLeavy in The Loved Ones, a movie that all horror nerds should see. The difference in this film is that, as opposed to The Loved Ones, the villain in this film feels like he could actually exist in the real world and that makes what's happening to Tom and Lucy infinitely more horrifying. That type of nihilistic, sociopathic behavior manifesting itself in the way it does in this film is really quite disturbing and the way Max psychologically tortures Lucy and Tom is really quite disturbing and, again, there's enough reality in there to make what's happening even more harrowing than it already is. So I applaud the filmmaker for making smart decisions and knowing how to build-up tension properly and how to satisfyingly climax the events of the film. There's also this mystery about what happened in the pub that, supposedly according to Max, is causing all of this to happen. When the film begins Tom and Lucy are leaving the club. Tom tells Lucy that there was an incident where some guy spilled his beer and to avoid problems he bought the guy and his friends a round. You never actually see the incident, you only hear about it after the fact and it's implied that something more DID happen at the pub than Tom was letting on. But I really think this was just an issue of Max just playing with Lucy's mind in order to get her to blame Tom for what has happened rather than just being something planned out by a very disturbed man. It's very well possible that something did happen in the pub, but that's part of the film's lingering intrigue. Whether or not Tom was actually to blame for what happened which, in a way, he definitely was. The film is shot in a way that only maximizes the tension and intensity and the script is smart at subverting normal expectations for this type of film. As you can see, I really liked this movie. I'm tempted to give it 4 stars, and maybe I will, but I really liked this movie. I think I'll leave it at 3.5 for now, but know that the film is better than the flixster audience scores imply. The critics are right on this one, really good stuff here.
Jesse Ortega
Super Reviewer
In Fear Quotes
There are no approved quotes yet for this movie.