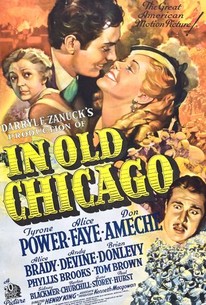 In Old Chicago
1937, History/Drama, 1h 35m
12 Reviews
1,000+ Ratings
Rate And Review
Movie Info
In 1871 Chicago, honest lawyer Jack (Don Ameche) and his reckless saloon owner brother Dion (Tyrone Power) are two very different men attracted to the same beautiful singer, Belle (Alice Faye). Personally and professionally at odds, their relationship is tested as Jack becomes mayor of Chicago, while his brother becomes a leader in disreputable entertainments. Their conflict culminates in the Great Chicago Fire, started by a cow belonging to their mother, Mrs. O'Leary (Alice Brady).
Audience Reviews for In Old Chicago
The story of a cow and all the problems it caused by burning down a major city. This was an early attempt to create a disaster film and there simply wasn't the technology available to make a decent go of it.

This film feels somewhat lost among the Hollywood gems of the thirties, though it was nominated for several Academy Awards, and lent to one of the biggest mysteries concerning Alice Brady's Oscar trophy. The story revolves around the Great Chicago Fire of 1871. There is a large myth that purports that a cow in Mrs. O'Leary's barn set it off a fire, destroying most of the town. In this story Mrs. O'Leary is a widow with three sons living in Chicago. She works night and day as a washer woman to support Jack, a lawyer, Dion, a gambler, and Bob, a newlywed. Most of the plot follows the story of Jack and Dion, played by the wildly popular Don Ameche and Tyrone Power. Before we even get to the tragedy aspect of the film, the first hour or so follows Dion's rise to power in The Patch, the crime riddled section of Chicago, filled with gambling, alcohol, and loose women. Dion falls for and manipulates Belle Fawcett, a performer who sets up a new club with him to the disdain of her former boss, Gil Warren. The romance between Dion and Belle is abusive at best, many scenes showing him pinning her down, catching her before she can run away, and ambushing her several times while she and her maid scream for the police. Of course, in thirties fashion, she sees his roguish charm and falls in love with him. Weaving through are the politics of the mayoral race, in which Jack is a candidate against Gil Warren. This leads to a bout of conflict between the two brothers, one trying to clean up the city, the other trying to make a quick buck. Then, after Dion tricks both Jack and Belle, the barn is set aflame, and we get to watch some really amazing special effects for the time period. There is so much illness, and depression as we watch people get stampeded, families split apart, and others dying young in the flames. This film doesn't hold back, or play out to any cliches when it comes to the ensuing action, making it both a character study of the disenfranchised O'Leary clan, and particularly Dion, the man without ethics who everyone keeps giving the benefit of the doubt. A strong film from a strong era of moviemaking.

Sure it's an epic historical movie, but that doesn't mean it has to be boring! Good actors, but the movie could have been a lot better.
See Details