In the Hands of the Gods
(2007)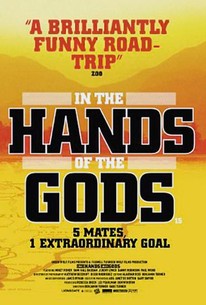 In the Hands of the Gods Photos
Movie Info
If the rabid cult following generated by World Cup soccer has blossomed throughout the United States in recent decades - affording players luxuries and recognition long-imagined untenable for "footballers" - the team members of the mid-lower level leagues, by contrast, haven't yet gleaned like privileges, and must typically scrounge around for fame, recognition, and suitable monetary recompense to continue pursuing their love of the game. Such is the plight afflicting the five young men at the heart of Gabe Turner and Benjamin Turner's documentary In the Hands of the Gods. Sami Hall Bassam, Jeremy Lynch, Paul 'Woody' Wood, Danny Robinson and Mike 'Mikey' Fisher find themselves thrust together, for the first time, on the same soccer team; their differing personalities threaten to pull them in opposite directions, but they feel bound by a shared idolization of Argentine soccer demigod Diego Maradona. The common interest propels the young men to the United States, where they hope to draw an adequate fanbase, generate substantial monies by exhibiting their skills, and use that money to travel to South America for an impromptu meeting with Maradona - hoping, without saying so directly, that a simple encounter with him will cause some of his inherent magic and success to "rub off" on them. Unfortunately, while the team makes it to the U.S., conflicts soon erupt between the players, thanks in no small part to the plight of sharing small living quarters as they travel. Yet the possibility of a meeting with Maradona grows increasingly probable, first when the group raises enough money to send two of its members to Argentina, then when the media latches onto the story and opens the door for the remainder to follow.
Critic Reviews for In the Hands of the Gods
Audience Reviews for In the Hands of the Gods
Cool docu-drama come teen entrepreneurs hitting the football bug across america to eventually meet their hero. Well done
Alexander Wilson
Super Reviewer
In the Hands of the Gods Quotes
There are no approved quotes yet for this movie.