In the Name of the Father
(1993)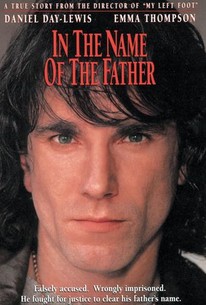 In the Name of the Father Photos
Movie Info
True story of Irish youth wrongly convicted for IRA bombing in 1974 as he and his father are taken to prison and forgotten. Powerful drama details their fight to survive in prison and to reveal the truth of their innocence.
People Who Like this movie also like
News & Interviews for In the Name of the Father
Critic Reviews for In the Name of the Father
Audience Reviews for In the Name of the Father
½
Over-the-top dramatics move this bit of populist fantasy about some Irish falsely imprisoned for bombing innocents in London. Once you accept that some liberties were taken to sell the tale the thing is palatable.
Kevin M. Williams
Super Reviewer
½
An explosive and powerful film, it makes you take notice, rooted to the edge of your chair as you watch the senseless prejudice and heartless feeling of the British judiciary system while they imprison four innocent people. Based on the true story of Gerry Conlon and the Guildford Four, director Jim Sheridan winds through the real life events that landed a bunch of hippies in jail for murdering fifteen people at the height of the IRA's power in Ireland. This is a very strong and powerful film, because the cover-up was so huge and the misuse of power is so obvious. Not just the people prosecuted, but their family and friends, were put into prison, and that's what makes this such a nauseous film to watch. Much of what makes this heartbreaking are the great performances from the cast assembled. Daniel Day-Lewis is himself an enigma among actors, and he proves his method acting is tried and true in this role, coming off as a disenchanted young man with sincerity, but also a dogged and tired middle aged man at the offset of his sentence. Pete Postlethwaite as his father, wanting his freedom and yet remaining revered in the face of his sentencing, makes you tear up every time he holds out hope for the future. The supporting cast is also quite sincere with their performances, and the four imprisoned showed the deepest pain and regret as they are carted off to prison. The only performance that seemed off was Emma Thompson, who plays Conlon's lawyer. Though she remains restrained throughout most of the film, she ends up seeming earnestly aghast as an outsider, when she should be more composed and triumphant at the end of the film. Though some minor facts were changed, most of what remains true and gut wrenching is in this film, and it makes you sad to think it's not false.
Spencer S.
Super Reviewer
Superlative drama, about a group of Irishmen wrongfully imprisoned as terrorists in 1970's England. As is ever the case with him, Daniel Day-Lewis exhibits a tour-de-force performance, that leaves one genuinely gripped. Joined by esteemed thespians like Emma Thompson and the late Pete Postlethwaite, there is excellent acting to be found within the supporting cast as well. Sort of like an Irish version of The Shawshank Redemption and almost as powerful. Certainly not to be missed!
In the Name of the Father Quotes
| | |
| --- | --- |
| Gerald Conlon: | Our case was so insane, that if you made it up, nobody would believe it. |
| | |
| --- | --- |
| Guiseppe Conlon: | I want you to have some respect. |
| Gerald Conlon: | Respect for who? |
| Guiseppe Conlon: | Respect for yourself. |
| | |
| --- | --- |
| Gerald Conlon: | You see, I don't understand your language. "Justice." "Mercy." "Clemency." I literally don't understand what those words mean. I'd like to put in an application to get all my teeth extracted.That way I could put my fist in my mouth and never speak another word of fuckin' English so long as I live. |
| Gerald Conlon: | You see, I don't understand your language. 'Justice.' 'Mercy.' 'Clemency.' I literally don't understand what those words mean. I'd like to put in an application to get all my teeth extracted.That way I could put my fist in my mouth and never speak another word of fuckin' English so long as I live. |
| | |
| --- | --- |
| Gerald Conlon: | I'm a free man, and I'm going out the front door. |
| Gerald Conlon: | I'm a free man, and I'm going out the front door. |