The Incredible Hulk Returns
(1988)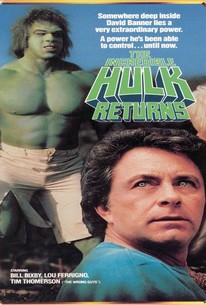 Movie Info
Bill Bixby stars as physicist Dr. David Banner, the mild-mannered alter ego of the raging green mutant The Hulk (Lou Ferrigno), in this made-for-TV film based on the 1978 series (which was inspired by the Marvel Comics characters). In this outing, Dr. Banner teams with Thor, the Norse god of thunder.
Critic Reviews for The Incredible Hulk Returns
Audience Reviews for The Incredible Hulk Returns
I have enjoyed watching the TV show with the wonderful Bill Bixby and Lou Ferrigno on Hulu over the past couple years. It started strong and was not until the later part of the fourth season and the shortened fifth season in the 1980s that the 70s seemed to rear its ugly head and the writers ran out of ideas. The final seven episodes with an extended gap between the Fall of 1981 and the Spring of 1982 got more far-fetched, repetitive, and did not offer closure to the series. So, then six years passed until this first of three Incredible Hulk TV movies was released. Before the current Marvel studios domination of the small and big screens with a whole universe of Super/Mutant characters with flaws, Stan Lee was a consultant to the producers for the entire series and all three of these TV movies. Every effort was made to show that David Banner was an Everyman. He was an educated scientist, but he wore cowboy boots, was willing to listen to and help anyone in need, and work any number of menial (read anonymous) type jobs. Stan Lee created the Hulk as a combination of Dr. Jekyll and Mr. Hyde and Frankenstein's monster. Rather than this Mr. Hyde being the embodiment of the Doctor's evil psyche, David is such a nice guy with a strong moral compass that the big green guy only goes after the villains who cause it pain, and at other times is a gentle giant with a childlike quality. Filmmakers then probably envisioned the sort of Marvel Universe we have today with character crossovers. It feels the most like a two part episode with the same opening credits from the series. This one tries to wrap up the dogged reporter story-line of Jack McGee (Jack Colvin), doesn't do a very good job, and then promptly drops any further mention of McGee, the third central character in the series, from the next two movies. Banner (full name David Bruce Banner) under an assumed identity is living a fairly regular life. He is in love and he has a fulfilling job back in a high-tech science lab. Then Donald Blake (Levitt), a former student of Banner, shows up to explain how he found Thor's hammer and is now Thor's master. He is supposed to be a sympathetic character similar to Banner who struggles to control this overwhelming force. The Thor plot takes over! This one is the campiest of the three, I think. Thor (Kramer), who is not really that muscular and is wearing a cheesy Halloween costume, is an adversary to the Hulk at first. They make an uneasy alliance when a crooked business deal derails Banner's plans for a cure, but Thor is more at home in a bikers' bar. By the end, just like each episode, we hear that same sad song that cues Banner walking alone toward a new life and another chance to be released from this frightening transformation.
Byron Brubaker
Super Reviewer
This movie is cheesy and bad, but I liked the show and I like making fun of this movie, so I like it too. Overall, it's just okay.
The film starts off really well with Banner trying to lead a normal life. Seeing him in a relationship is quite moving and as he gets closer to curing his disease everything is looking up. Unfortunately this is a case of attempting to start another franchise, this time that of Thor. Thor isn't really a bad character, he's simply too comical and out of place in a Hulk film. The mythical story is also a far stretch from that of Banners own story. Again it falls victim to the TV shows formula but has enough entertaining moments for the normal Hulk fan.
Luke Baldock
Super Reviewer
The Incredible Hulk Returns Quotes
There are no approved quotes yet for this movie.