Indochine
(1992)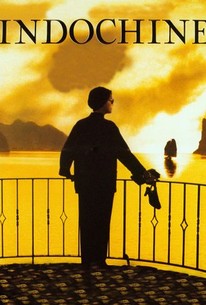 Movie Info
Set in French Indochina during the politically turbulent 1930s, Regis Wargnier's film stars Catherine Deneuve as a plantation owner who becomes involved in a torrid love triangle between a handsome French soldier (Vincent Pérez) and her beloved adopted Asian daughter (Linh Dam Phan). Won an Oscar for Best Foreign Film.
Critic Reviews for Indochine
All Critics (17) | Top Critics (2) | Fresh (12) | Rotten (5) | DVD (1)
A guilty pleasure, this French melodrama could have been called "Saigon, mon amour," a grand, sweeping and sprawling saga about a strong plantation owner (the beautiful Catherine Deneuve)--not unlike Vivien Leigh of Gone With the Wind.
The tendency of Oscar voters toward visual bombast and style-over-substance filmmaking in the English-language categories also applies in the international competition.
The concentration instead is on soap opera plotting that gets pretty sappy sometimes, as well as thick, torpid dialogue.
Audience Reviews for Indochine
½
A movie that had its moments. The film itself seems to suffer from a lack of momentum; it strives to be an epic, but ends up being just a decent family drama. Beautfiul to look at, nonetheless. Good actors. Way long....
Cynthia S.
Super Reviewer
Indochine exposes a journey to freedom that narrates the clash of cultural and political paradigms set colonial French Indochina. A film, which in itself a revolution, a stand on issues of colonialism and resistance, culture and politics, and history and tradition made relevant for the consumption of general viewership by infusing human interest schemes. Meaningful. Inspiring. A national treasure.
Jan Marc Macababayao
Super Reviewer
½
Another pointed reminder why the French -- and the US after them -- were destined not to succeed in Vietnam. It's all about that maniacal empire building impulse, and all those "superior" countries that have tried to do it over the years in different countries all over the globe.
It's a cliché: History really does repeat itself -- over and over again. Clichés often become clichés because they are true. History sadly repeats itself, but no one ever seems to learn the appropriate lessons when it comes to activities like trying to take over other countries and subjugating other people.
Lanning : )
Super Reviewer
Indochine Quotes
There are no approved quotes yet for this movie.