Inside Man
(2006)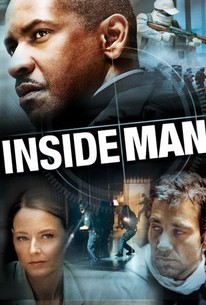 TOMATOMETER
AUDIENCE SCORE
Critic Consensus: Spike Lee's energetic and clever bank-heist thriller is a smart genre film that is not only rewarding on its own terms, but manages to subvert its pulpy trappings with wit and skill.
Movie Info
The volatile showdown between a determined cop and a perfectionist bank robber is sent spiraling toward disaster when a scheming power broker steps in to take control of the situation in this hair-raising heist flick directed by Spike Lee and starring Denzel Washington, Clive Owen, and Jodie Foster. Dalton Russell (Owen) is a bank robber with a difference. In his quest to execute the perfect heist, Dalton has taken every possible factor into consideration. Dalton's uncanny ability of staying one step ahead of the law thwarts even-tempered Detective Keith Frazier's (Washington) best efforts. But there's another factor at play. The bank president (Christopher Plummer) has requested the services of high-profile negotiator Madeline White (Foster). Despite her commendable track record, Madeline is something of a wild card, and before the day is over, this bank robbery will go down in history as one of the most elaborate heists ever executed. ~ Jason Buchanan, Rovi
People Who Like this movie also like
News & Interviews for Inside Man
Critic Reviews for Inside Man
Audience Reviews for Inside Man
½
Don't look too closely, because a lot of this simply doesn't make sense. Beyond that consideration though it can be a wee bit of fun. Spike Lee gives each of his international cast of New Yorkers screen time to lay down their plot points and get out of the way, one has the feeling of being at a theater party. Standouts include Jodie Foster's slimy hatchet man, Willem Dafoe good guy (for once!!!) cop and, of course, Chris Plummer's Nazi collaborator (they'll put in on his tombstone!). Good fun all around.
Kevin M. Williams
Super Reviewer
Lovely heist film. Spike Lee at his best
Spencer Macklin
Super Reviewer
½
Spike Lee's Inside Man leaves it all inside the bank.
For a 2 hour film that spends most of its time in a bank, the story remains intriguing throughout. The pacing is never to slow nor to fast, but the storytelling is choppy during some instances, although it is easy to see what Spike Lee is trying to do. It's only a minor irritant when all is said and done.
There's not a lot of action in here, and quite frankly this picture doesn't need it. The plot and dialogue of the characters is enough to keep this film afloat.
Denzel Washington's persona and line delivery is on the money, while Clive Owen's confident character is a good adversary for Washington. The mystery that surrounds Jodie Foster's character is fantastic; however, she loses points for lack of screen time.
As far as crime thrillers go, Inside Man comes together as a recommendable production.
Inside Man Quotes
| | |
| --- | --- |
| Det. Bill Mitchell: | Let me see your shoe |
| Det. Bill Mitchell: | Let me see your shoe. |
| Detective Keith Frazier: | Why? |
| Det. Bill Mitchell: | 'cause I have never seen anybody put their foot that far up ...... |
| Det. Bill Mitchell: | 'cause I have never seen anybody put their foot that far up... |
| | |
| --- | --- |
| Dalton Russell: | This time next week I'll be sucking down pina coladas in a hot tub with six girls named Emily and Tiffany. |
| Detective Keith Frazier: | More like taking a shower with two guys named Jamal and Jesus, if you know what I mean. And here's the bad news: that thing you're sucking on? It's not a pina colada. |
| | |
| --- | --- |
| Dalton Russell: | Fact is, all lies, all evil deeds, they stink. You can cover them up for a while, but they don't go away. |
| | |
| --- | --- |
| Dalton Russell: | My name is Dalton Russell. Pay strict attention to what I say because I choose my words carefully and I never repeat myself. I've told you my name: that's the Who. The Where could most readily be described as a prison cell. But there's a vast difference between being stuck in a tiny cell and being in prison. The What is easy: recently I planned and set in motion events to execute the perfect bank robbery. That's also the When. As for the Why: beyond the obvious financial motivation, it's exceedingly simple... because I can. Which leaves us only with the How; and therein, as the Bard would tell us, lies the rub. |
Discussion Forum
Discuss Inside Man on our Movie forum!