Inspector Gadget
(1999)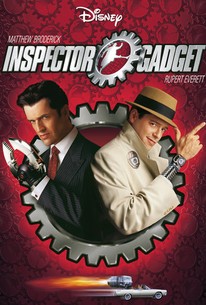 Movie Info
Based on the popular cartoon character of the same name, Inspector Gadget is an adventure comedy about a somewhat naive and inept security guard, John Brown, whose big heart is equal to his far-fetched dreams of becoming the world's greatest police officer. However, nothing is impossible. Suddenly unexpected circumstances make him the ideal candidate for a top secret law enforecment project, and pretty scientist Dr. Brenda Bradford applies her expertise in robotics to build him into a man of many talents--and accessories. Using a vast array of grafted-on gizmos and doohickies to bust bad guys, the often clueless Inspector Gadget must also employ his common sense to crack an especially complicated case. As he penetrates Riverton City's darkest underworld, Inspector Gadget must save not only his good name and reputation, but also rescue the world from the nefarious Claw.
People Who Like this movie also like
News & Interviews for Inspector Gadget
Critic Reviews for Inspector Gadget
Audience Reviews for Inspector Gadget
½
Unlike the original television show, this film fails to provide genuine gags and the "characters" are far too flat to even call them characters. Matthew Broderick is literally the only thing that makes this film enjoyable, as he adds depth to whatever may be on the screen in this atrocity of a film. I mean, it's not dreadfully bad, in fact, I do have fun with some scenes, but the overall impact always has me scratching my head as to how these "filmmakers" could have found this to be a good or even decent script. The dialogue is terrible, the acting is over-the-top, the visuals are average, and every single gag falls flat. Still, I had some fun with "Inspector Gadget."
Being a fan of the cartoon growing up, I was interested in seeing this. I saw it when it was released, and boy did it suck. This film really scraps the bottom of the barrel. The film has a paper thin plot, a pretty bad cast and above all, bad directing. The film is plainly stupid, and doesn't do anything to thrill the audience. This film is another poor attempt at making a film based on a TV show. Unfortunately the result is a film that is purely stupid. Upon watching this, all I wanted was my hour and twenty minutes back. The plot was bad, and the acting was plainly terrible. Inspector has no redeeming qualities, and you wonder how this crap got made. Aside from Ferris Bueller's Day Off, Matthew Broderick hasn't done anything good since, and with this film, his career has sunk to a new low. Inspector Gadget is a terrible film that along with a few other family films such as Thunderbirds should be avoided. This film insults the intelligence, and I found it painful to watch. Inspector Gadget was something neat to watch when I was younger, but as a full fledged live action film, it fails to deliver anything good on-screen. This is one of the worst family oriented films that I have seen, and everything about it is terrible. The acting is awful, and it's understandable with a cast like this. Inspector Gadget doesn't entertain, it frustrates.
Hated by critics and audiences upon initial release: Inspector Gadget will always be a guilty pleasure of mine.
Matt Goodman
Super Reviewer
Inspector Gadget Quotes
| | |
| --- | --- |
| Inspector Gadget: | I don't know what you're up to, Schoolex, but you'll never get away with this. |
| Claw: | [laughs] Oh how cliche inspector, [sighs] I think somebody's been watching too many Saturday Morning cartoons. [They turn around and look at Sykes] |
| Sikes: | Huh? |
| | |
| --- | --- |
| Chief Quimby: | Claw, you are now in the police department |
| Chief Quimby: | Claw, you are now in the police department. |
| | |
| --- | --- |
| Mayor Wilson: | I mean, Claw!!!!!!!! |
| Mayor Wilson: | I mean, Claw! |
| | |
| --- | --- |
| Mayor Wilson: | Inspector Gadget!!!!!! |
| Mayor Wilson: | Inspector Gadget! |