Into The Abyss
(2011)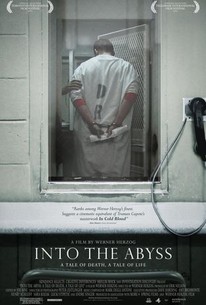 TOMATOMETER
AUDIENCE SCORE
Critic Consensus: Another probing, insightful look at an interesting subject, Werner Herzog explores the American prison system with passion and not politics.
Movie Info
In his fascinating exploration of a triple homicide case in Conroe, Texas, master filmmaker Werner Herzog probes the human psyche to explore why people kill-and why a state kills. In intimate conversations with those involved, including 28-year-old death row inmate Michael Perry (scheduled to die within eight days of appearing on-screen), Herzog achieves what he describes as "a gaze into the abyss of the human soul." Herzog's inquiries also extend to the families of the victims and perpetrators as well as a state executioner and pastor who've been with death row prisoners as they've taken their final breaths. As he's so often done before, Herzog's investigation unveils layers of humanity, making an enlightening trip out of ominous territory. -- (C) Official Site
News & Interviews for Into The Abyss
Critic Reviews for Into The Abyss
Audience Reviews for Into The Abyss
A compelling look at capital punishment, even if Herzog clearly wants to convince us that it is wrong. Still, he also shows other people's opinions, allowing us to draw our own conclusions about the subject while raising an interesting discussion on the value of life.
Carlos Magalhães
Super Reviewer
This is a unique documentary and it is one that takes a look at a death row inmate and the story behind his crime. Into the Abyss is a solid film, but one that is hard to watch, and is the type of film that you only need to see once. Due to its subject matter, it's not one worth watching again. This is a powerful in your documentary. Werner Hezrog narrates and interviews the subjects, each tell their story and Hezrog interviews the victim's family and other people that are part of the case. The film is disturbing and is a truly one of a kind. This is a well crafted documentary and one worth seeing, but it is not for everyone. The subject Michael Perry is clearly a psycho and he claims his innocence, even if the DNA evidence says otherwise. Although interesting, I won't rewatch this, and it is quite hard times to watch, especial when you hear the victim's story. The film gives us an in depth look at Death row, and it's an unforgettable film that is sure to stay with you long after you see it. This is a brilliant movie that is sure to entertain documentary lovers. The subject is intense, but quite captivating, and Hezrog does not portray Perry as a victim, if you look closely, you can clearly see that Perry is deranged, and thinks he did no wrong. Well, Hezrog definitely proves that he's a murderer who has no empathy or sympathy for the victims. His last words were even I forgive you for the wrong that you committed to me, as if the victims haven't suffered enough. Hezrog shows Perry exactly as he is a murderer with no conscience. Into the Abyss is unforgettable documentary filmmaking at its very best.
½
Fred Allen: Hold still and watch the birds. Once you get up into your life like that, and once you feel good about your life, you do start watching what the birds do. What the doves are doing. The hummingbirds. My, there's so many of them.  "A Tale of Death, a Tale of Life" Into the Abyss is another remarkable documentary from one of films greatest ever, Werner Herzog. It's crazy how he can inject beauty into everything he touches. Now with Into the Abyss, the beauty isn't overpowering, as the story doesn't really call for it, but it's still there. It's in the questions that Herzog asks, it's in the statements members of the deceased families makes; it's there.  This documentary follows a triple murder and the two men charged with the crime. One of which was put to death, the other was sentenced to life in prison. Both men claim they had no involvement in the murder. Herzog isn't trying to make a case that either of the men is guilty or innocent. He's not tying to make a case for the abolition of the death penalty. He states that he doesn't believe human beings should be executed, but he enters the story with no bias at all in his presentation of everything. This is something that very few documentaries made on controversial subjects are able to do. Most of the time, the filmmakers bias will enter into the story. Herzog's does not and that's his genius. Interviews include a clergy member who goes to see men who are about to be put to death, a sister and daughter of two of the victims, a brother of the other victim, the father of one of the man who was sentenced for life, a man who worked at the place where death row inmates take their final breath, and the wife of the man who was sentenced to life. Each and every interview has extreme power because what is spoken is spoken from the heart. Herzog is spot on with the questions he asks too. He always knows where to take an interview and he does so here with precise perfection. Into the Abyss is a great documentary and just proves once again why Herzog is a legend. It's sad to watch the families talk about it all, but once again Herzog does find the beauty in it. The film can be hard to watch at times because of the subject material and all of the facts that are brought out, but it is a film that deserves to be watched. 
Melvin White
Super Reviewer
Into The Abyss Quotes
| | |
| --- | --- |
| Werner Herzog: | Wow. I never realized the extent of capital punishment till I saw this. Who won in this? It seems to me, there was no win. Just a lot of losses. The state of Texas is no different from taking a life than Micheal Perry. Again...........Wow. |
| Werner Herzog: | Wow. I never realized the extent of capital punishment till I saw this. Who won in this? It seems to me, there was no win. Just a lot of losses. The state of Texas is no different from taking a life than Micheal Perry. Again... Wow. |
| | |
| --- | --- |
| Michael Perry: | I tell people all the time, I'm either going home, or home. |
| | |
| --- | --- |
| Jason Burkett: | I want fifty children. |