Involuntary (De Ofrivilliga)
(2008)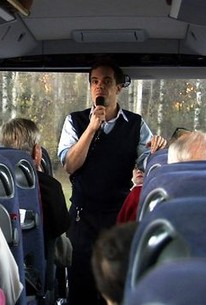 Involuntary (De Ofrivilliga) Photos
Movie Info
Filmmaker Ruben Ostlund offers five stories of how human behavior can be interpreted in different ways by different people in this omnibus feature from Sweden. A bus driver (Henrik Vikman) who has pulled over for a routine rest stop discovers someone has damaged a curtain in the bus's washroom, and he decides that his all passengers will have to wait until the guilty party is willing to step forward and confess. A man named Leffe (Leif Edlund Johansson) persuades his friends to help him play a prank on his friend Olle Olle Lijas, though to some it looks less like a joke and more like homosexual rape. Two teenage girls pose for their digital camera, play-acting at soft-core erotica in a manner that could pass as the real thing to the casual observer. A young boy (Villmar Bjorkman) is having a birthday party where his parents have set up a fireworks display; he's injured when one of the explosives misfires, but he's afraid of spoiling the day by telling anyone he's been hurt. And when a teacher learns that a fellow faculty member has been abusing one of their students, she uses a psychological experiment in class to bring the truth to light. De Ofrivilliga (aka Involuntary) was screened as part of the Un Certain Regard program at the 2008 Cannes Film Festival.
Critic Reviews for Involuntary (De Ofrivilliga)
Audience Reviews for Involuntary (De Ofrivilliga)
Original vision of curious swedish vignettes which concludes little but intrigues at times.
Gordon Anderson
Super Reviewer
Involuntary (De Ofrivilliga) Quotes
There are no approved quotes yet for this movie.