Iron Sky
(2012)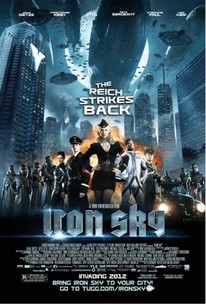 Movie Info
In the last moments of World War II, a secret Nazi space program evaded destruction by fleeing to the Dark Side of the Moon. During 70 years of utter secrecy, the Nazis construct a gigantic space fortress with a massive armada of flying saucers. When American astronaut James Washington (Christopher Kirby) puts down his Lunar Lander a bit too close to the secret Nazi base, the Moon Führer (Udo Kier) decides the glorious moment of retaking the Earth has arrived sooner than expected. Two Nazi officers, ruthless Klaus Adler (Götz Otto) and idealistic Renate Richter (Julia Dietze), travel to Earth to prepare the invasion. In the end when the Moon Nazi UFO armada darkens the skies, ready to strike at the unprepared Earth, every man, woman and nation alike, must re-evaluate their priorities. -- (C) Official Site
People Who Like this movie also like
News & Interviews for Iron Sky
Critic Reviews for Iron Sky
Audience Reviews for Iron Sky
This is what a metamodern b movie looks like.
_kelly .King
Super Reviewer
½
Really dumb and schlocky but endlessly entertaining and fun to mock.
Chris Miele
Super Reviewer
'Heil Kortzfleisch!' So I think we all know right from the start this film is not to be taken seriously in any means or fashion in the slightest. A completely farcical UFO B-movie that is a mix of classic old 40's/50's sci-fi and complete schlock, any sci-fi or horror that involves the Nazi's tends to be trashy nonsense right? Only this film isn't entirely a cheap tasteless excuse for smut in smart uniforms oh no, its actually a pretty neat little film that actually looks pretty good. Its almost in black and white for a lot of the Nazi sections, a virtual grey scale of dull rusty metal bolted together with lots of sturdy fat rivets, thick 50's looking sci-fi cables and lots of impressive steel gantries for the kraut officers to leer from triumphantly. I have to admit I wasn't expecting the earth here (no pun intended) but the CGI effects on most of the space battles, spaceships and Moon shenanigans all look quite crisp and clean with clearly much effort involved. The spacecraft are all your classic UFO shapes (with nice WWII influence) but one has to admit they do look kinda cool with the German kit on them. There is also a really nice steampunk, cogs n gears, 'Wolfenstein' vibe going on throughout the German Moon based sequences which really works well, kinda reminded me a little of Del Toro's work in 'Hellboy 2'. Plot aside (seeing as there are plot holes you could fly a Zeppelin through) the film is good fun and does what you would expect with plenty of other invasion films copied in certain sequences. The acting is poor but Götz Otto makes an impressive display as the Fuhrer wannabe 'Klaus Adler', he snarls his way through his dialog in wonderful form really enjoying the villainy, and of course who can forget Udo Kier as the new Fuhrer. I believe Kier is in the dictionary under the word 'cult'. For some reason I did expect more blood n guts in this, not extreme but it just begged for more claret to flow and maybe some Nazi experimentation, say Nazi space mutants or Nazi killer space robots made with human parts etc...I dunno maybe that's just me and my warped mind. I guess ze crazy German scientist 'Doktor Richter' gave the impression that might happen, nice character, complete stereotype but nice. A combination of political satire and spoof mixed with B-movie UFO's and space Nazi's, the best part being its not trashy and the space battles do look cool in a 'Starship Troopers' kind of way. I also liked the US president being a woman who looked suspiciously like Sarah Palin. Pure trashy genius methinks, yet such a simple idea.
Phil Hubbs
Super Reviewer
Iron Sky Quotes
| | |
| --- | --- |
| Vivian Wagner: | What am I supposed to tell her. That my employees are not intelligent enough to be fucking morons? |
| | |
| --- | --- |
| President of the United States: | You all gave me your word! |
| President of the United States: | We always break ours. That's just what we do. |
| | |
| --- | --- |
| Wolfgang Kortzfleisch: | Time is the sin... |
| | |
| --- | --- |
| Doktor Richter: | That is not a computer. This is a computer. |