Jack Ketchum's The Girl Next Door
(2007)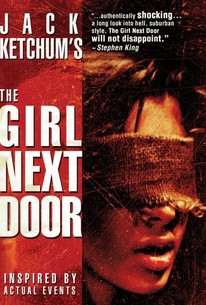 Jack Ketchum's The Girl Next Door Photos
Movie Info
Based on the harrowing best-seller by author Jack Ketchum, director Gregory Wilson's The Girl Next Door presents a fictionalized account of the shocking ordeal endured by Sylvia Likens -- an innocent Indiana teen who was systematically tortured, raped, and murdered by a suburban divorcée and a group of neighborhood children in 1965. Shortly after losing their parents in a deadly car accident, Meg Laughlin (Blythe Auffarth) and her younger sister, Susan (Madeline Taylor), are sent to live in the Indiana home of Ruth Chandler (Blanche Baker) and her three sons, Willie (Graham Patrick Martin), Donny (Benjamin Ross Kaplan), and Ralphie (Austin Williams). Upon arriving in the quiet suburban neighborhood, Meg quickly forges a warm bond with local neighbor boy David Moran (Daniel Manche). Strangely, Ruth seems to harbor some sort of unknown grudge against her pretty young charge, and it isn't long before events in the Chandler home begin to take an ominous turn. Now, as Ruth Chandler begins her slow descent into madness, the basement of a typical middle-class home is about to become the scene of a crime that would shock and repulse an entire nation.
News & Interviews for Jack Ketchum's The Girl Next Door
Critic Reviews for Jack Ketchum's The Girl Next Door
Audience Reviews for Jack Ketchum's The Girl Next Door
The strange thing about this film is that the acting (particularly from the main character) didn't start off great, but it does improve through the film. It's shocking that this was a true story and actions that took place are truly disturbing.
Lady D'arbanville
Super Reviewer
½
I watched this movie after I saw it on a list of the most disturbing movies ever made and although it was definatly not Disney I think my expecations were built higher than the film actually delivered. Still it was worth the watch and a good movie to have on DVD to scare your slightly harder to bore friends on movie night.
Unknown Hobo
Super Reviewer
its really sad that this movie is based on a true story but this movie jus irritated me! the portrayal of characters werejust annoying and i felt more frustrated then any other emotion! this movie failed ithink to capture the emotion that this actual story deserves!
Film Crazy
Super Reviewer
Jack Ketchum's The Girl Next Door Quotes
| | |
| --- | --- |
| Adult David: | It's what you do last that counts. |
| | |
| --- | --- |
| Ruth Chandler: | One sound down here and I promise I'll kill the both of you. Not just punish you, kill you. Dead. |
| | |
| --- | --- |
| Adult David: | You think you know about pain? Talk to my second wife. When she was nineteen she got between a couple of fighting cats, and one of them went at her, climbed her like a tree, tore gashes out of her thighs and breasts and belly that you can still see today. She got thirty stitches and a fever that lasted for days. My second wife says that's pain. She doesn't know shit, that woman. |