Jackie Chan: The Myth
(2005)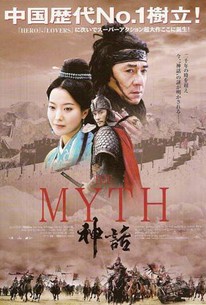 Jackie Chan: The Myth Photos
Movie Info
Historical fact blends with high-flying fiction as Jackie Chan steps into dual roles as a determined archeologist and a loyal general of China's first emperor in director Stanley Tong's lavish historical action film. Jack (Chan) is an intrepid archeologist in search of a mythical gemstone that is said to have the power to defy gravity. Though Jack's days are spent traversing the globe with scientist sidekick William (Tony Leung Ka-fai) in hopes of finding the elusive gem, at night in his dreams he assumes the role of General Meng-yi, devoted servant of Emperor Qin Shi-huang. As Jack and William venture to the mystical Heavenly Palace -- a wondrous fortress rumored to have been built by Qin Shi-huang himself -- Jack's vivid nocturnal journeys find him falling head-over-heels for the emperor's comely Korean consort Ok-soo (Kim Hee-seon). ~ Jason Buchanan, Rovi
News & Interviews for Jackie Chan: The Myth
Critic Reviews for Jackie Chan: The Myth
Audience Reviews for Jackie Chan: The Myth
½
A swashbuckling archaeologist plagued with vivid dreams of a historical general and his true love becomes embroiled in a quest to find the mystery of a gravity defying artefact. On paper, the marriage of historical epic in the vein of Hero or Crouching Tiger with old school Chan style globe-trotting espionage sounds like a lot of fun, but thanks to sloppy execution the result is a bit of a disjointed mess. The historical scenes are the best handled with some lovely production design, suitably epic looking cinematography and impressive battle sequences. Unfortunately they are also marred by some dodgy computer generated effects and they just don't sit comfortably with the modern day plot which is straight out of an episode of Scooby Doo. There are some serious laps in logic to the story, the romance is corny and it just seems to be cramming too many ideas into the mix which don't really fit together very well. It does have its moments thanks to Chan's acrobatics and some very eye catching leading ladies, but this formula was done to much better effect in The Forbidden Kingdom.
½
The plot gives way for spectacular fight choreography for the most part, and some of them are both entertaining and impressive (the production line fight, for example). I found the historical dream narrative more engaging than the contemporary scenes, which often had a faint air of the ridiculous about them (aside from the usual Chan charm, in which things go a bit wrong during combat but it doesn't pose much of a problem).
½
Long, winded, hodgepodge, poorly put together, absolute cheese ball. My mind kept wandering elsewhere. Personally, I think they crammed too much in it.

"Im a princess, my carriage is burning and its going to fall off a cliff! I wont jump off to save my life because Im that weak and dumb, save me jackie!! save me! .... headache...

Dont really need to say anything more but AVOID THIS ONE.

Directed by: Stanley Tong
Genre: Fantasy, Adventure, Comedy
Jackie Chan: The Myth Quotes
There are no approved quotes yet for this movie.