Jean-Michel Basquiat: The Radiant Child
(2010)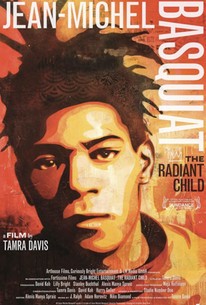 Jean-Michel Basquiat: The Radiant Child Photos
Movie Info
In his short career, Jean-Michel Basquiat was a phenomenon. He became notorious for his graffiti art under the moniker Samo in the late 1970s on the Lower East Side scene, sold his first painting to Deborah Harry for $200, and became best friends with Andy Warhol. Appreciated by both the art cognoscenti and the public, Basquiat was launched into international stardom. However, soon his cult status began to override the art that had made him famous in the first place. Director Tamra Davis pays homage to her friend in this definitive documentary but also delves into Basquiat as an iconoclast. His dense, bebop-influenced neoexpressionist work emerged while minimalist, conceptual art was the fad; as a successful black artist, he was constantly confronted by racism and misconceptions. Much can be gleaned from insider interviews and archival footage, but it is Basquiat's own words and work that powerfully convey the mystique and allure of both the artist and the man. --© Arthouse Films
News & Interviews for Jean-Michel Basquiat: The Radiant Child
Critic Reviews for Jean-Michel Basquiat: The Radiant Child
Audience Reviews for Jean-Michel Basquiat: The Radiant Child
Up until now, I knew little about Jean-Michel Basquiat, even though I remember the biopic which had been made about his life and have not seen.(That having been said, David Bowie as Andy Warhol? Really?) That all changes with Tamra Davis' fascinating documentary "The Radiant Child" wherein she adds interview footage she had shot of Basquiat to more recent footage of friends and lovers talking about his life and work. So, not only does a personal portrait form but also an artistic one of a street artist once referred to Sam-O with a wordy style that never quite fades. He is noticed and given and takes full opportunity of a chance to create more permanent artwork with influences from a medical textbook, pop culture and William Burroughs which formed paintings that would become very popular, influential and expensive. The documentary starts around 1980 in New York City at a time of cheap rents that benefited the art scene where anybody could have his artwork displayed that makes Basquiat's rise possible, followed by a complete reversal to a top down art world that ends up destroying him.
Jean-Michel Basquiat: The Radiant Child Quotes
There are no approved quotes yet for this movie.