Jeon Woochi : The Taoist Wizard
(2009)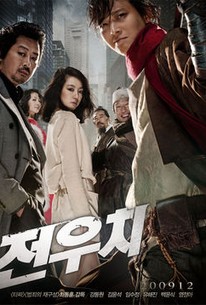 AUDIENCE SCORE
Critic Consensus: No consensus yet.
Jeon Woochi : The Taoist Wizard Photos
Movie Info
500 years after being charged with the murder of his master and imprisoned in a painted scroll, mischievous Taoist student Woochi (Kang Dong-won) is released by his elders to battle goblins in the modern world. As Woochi and his sidekick Chorangui (Yoo Hae-jin) attempt to make sense of their strange new surroundings, they discover their goblin adversaries are now a greater threat to humanity than ever before.
Critic Reviews for Jeon Woochi : The Taoist Wizard
There are no critic reviews yet for Jeon Woochi : The Taoist Wizard. Keep checking Rotten Tomatoes for updates!
Audience Reviews for Jeon Woochi : The Taoist Wizard
½
This isn't a bad movie by any means, but South Korean has never been known for special effects-driven action movies and this film is proof of that. I think the effects look quite bad and for a movie that relies so heavily on them, the fact that they're so bad means that the movie is really missing a key component that would've added something extra. The animations don't look great and the fight scenes don't have any real 'kick' to them because of it. The story is also a convoluted mess involving a flute, a sword, some magic, and demons fighting humans. Does it really make a lot of sense? Not really but the cast is solid and they do a great job at making the movie better than it really is. Seeing as this is a Korean movie, there's a lot of broad strokes. The comedy is silly and goofy. Surprisingly there's no real melodrama and I'm always thankful for that. I didn't dislike the film at all but it is a fairly average experience, bad effects and convoluted story help keep this from being good.
Jesse Ortega
Super Reviewer
Director Dong-hun Choi successfully blends many pieces into Jeon Woochi: The Taoist Wizard.
Stemming from Korean folklore, this fantasy action adventure comes with two settings. The first 40% belongs to a period piece, while the final 60% belongs to modern day Korea, and ultimately this gives the film variety. The story is entertaining, especially in the early going, but it does drag a bit in the second half, which makes the 2 hour 10 minute run time seem a little long.
The action is amusing with a nice mixture of martial arts and wizardry throughout. Unfortunately, the CG is hit and miss. The small effects for the wizard tricks are great, especially during the action segments, while the bigger effects like the goblins aren't as impressive.
The acting and cast are outstanding and serve as a benefit to this production. Dong-won Kang brings charisma and personality to the Woochi character and this can be seen right from the get go. Su-jeong Lim is a successful lead actress and Yun-seok Kim portrays an appropriate adversary. All of these major cast members, as well as some of the supporting cast, get to go through wardrobe changes between the two time periods as well.
Despite some deterrents, Jeon Woochi: The Taoist Wizard delights with many different elements and is a film to consider checking out.
Jeon Woochi : The Taoist Wizard Quotes
There are no approved quotes yet for this movie.