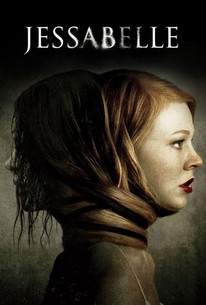 Jessabelle
2014, Horror/Mystery & thriller, 1h 30m
36 Reviews
10,000+ Ratings
What to know
critics consensus
Jessabelle hints at a bright future for star Sarah Snook, but clouds her performance with a cliched -- and tasteless -- storyline. Read critic reviews
Where to watch
Rent/buy
Subscription
Rent/buy
Rent/buy
Rate And Review
Movie Info
A young woman (Sarah Snook) returns to her childhood home to recuperate from a car accident and encounters a long-tormented spirit that refuses to let her escape.
News & Interviews for Jessabelle
Audience Reviews for Jessabelle
A terrible movie that wastes the talents of Sarah Snook. This movie just has nothing to offer outside of that honestly. It relies mostly on its atmosphere, but even that is lacking. I'd say that this film is vanilla, but you can still be vanilla while not being a particularly bad movie. This is a bad movie. Absolutely no scares to speak of, nonsensically stupid story involving voodoo, ghosts, among other cliches. Done in as haphazard a manner as is humanly possible. There's just no rhyme or reason for this, it's happening just because it is. Talk about ineffective. There's just something incredibly lazy about the film's attempts to build up suspense leading to its, supposed, scares. There's some decent ones here and there, but there are just as many, if not double, shit ones. That also seems to suggest that the film had more than, say, 20 scares. That's just a number I came up with, not the actual number. This just feels empty and shallow. It struggles to come up with interesting narrative threads in order to carry it throughout its running length. Let's just say it struggles to do even that. You'd think a movie involving voodoo would, hopefully, explore that concept, other than taking just a glancing look at it, but you'd be wrong. Explore how it influences the people that practice it. Just do SOMETHING. There was no real effort. It's like they thought 'oh hey, voodoo is cool, put that shit in there' and then they did a wikipedia search of it and just put it in there in the most simplified and basic explanation possible. Laziness personified. I don't wanna say it's disrespectful, but it could also be misunderstanding or even misinterpreting what voodoo is actually about. Which is probably not a good idea considering the perception about voodoo among people as it is. I'm not saying people take horror films THAT seriously, but misinformation can permeate our society because a movie, a book, or a TV series happened to shine a light on them in an inaccurate fashion. Of course, seeing as this film wasn't really that successful, then it doesn't really matter. But this is a problem in many films. Have I mentioned how bad this movie is yet? Because it sucks. There's this one really unintentionally scene, where Jessabelle, who's wheelchair-bound thinks that the ghosts of 'mother' and Moses are pushing her down the walkway into the lake, but it's really her rolling herself down into the lake. She just looked so fucking stupid doing this that it kinda nullified everything the movie had done up to that point. Not that any of it was good, mind you, it was just too difficult to take the movie seriously after that. Granted, it was close to the end, but the last thing a terrible movie needs is for someone to just give up on it and that's exactly what I did. I don't recall the last time I just gave up on a movie. I watch terrible movies all the time, but I don't know if I mentally quit them the way I did with this one. This is terrible. A decent performance from Sarah Snook does not make this worthwhile. It's not offensively terrible or anything of the sort, but I would not watch this if I were you. Go watch John Wick instead, the next movie I'll review, which was really good. I'm sure Cabin in the Woods is still on Netflix. That was a masterpiece of horror. This is not, obviously.

This movie is most definitely forgettable.I just watched it & I already forget what I just watched.I gave up on this movie halfway through & turned it off but for some reason, I turned it back on & sat through the rest.I guess I just wanted to torture myself or something.I think the best thing about Jessabelle was Sarah Snook's & Mark Webber's characters (Maybe that's the reason I went back.To see what happened to Jessie & Preston) Other than that, The movie was terrible & NOT scary at all

Nothing you haven't seen before on ghosts stories with very little surprises and a hell lot of pointless explanations that ruin the suspense. Plus, there's barely any scares to be found here, so this is a waste of time in the end. It's fairly well made and the lead actress is not bad but that doesn't save a movie without much to offer and some rather distasteful scenes later on.
See Details