Joe
(2014)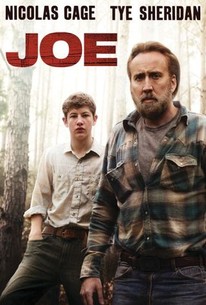 TOMATOMETER
AUDIENCE SCORE
Critic Consensus: Rich in atmosphere and anchored by a powerful performance from Nicolas Cage, Joe is a satisfying return to form for its star -- as well as director David Gordon Green.
Movie Info
A gripping mix of friendship, violence and redemption erupts in the contemporary South in this adaptation of Larry Brown's novel, celebrated at once for its grit and its deeply moving core. Directed by David Gordon Green, JOE film brings Academy Award (R) winner Nicolas Cage back to his indie roots in the title role as the hard-living, hot-tempered, ex-con Joe Ransom, who is just trying to dodge his instincts for trouble - until he meets a hard-luck kid, (MUD's Tye Sheridan) who awakens in him a fierce and tender-hearted protector. (c) Roadside
People Who Like this movie also like
News & Interviews for Joe
Audience Reviews for Joe
A blisteringly intense, compelling and very powerful movie. Director, David Gordan Green finally returns to form with this southern drama that's gritty, gripping, deeply moving and brings us one of the best performances of Nicolas Cage's career.Green's best movie in years. Nicolas Cage has never been better, finally a return to greatness performance that shows he still has the goods. Cage is a total powerhouse, this movie is a must-see for his performance alone. An unforgettable piece of work by a great director and a tremendous star. Tye Sheridan gives a great and effective performance. This movie digs deep in all the right ways and hits you emotionally and hits you hard in the gut. This is strong drama at its very finest, its brilliant, riveting and haunting. A knockout. One of 2014's most impressive films by far. Bravo to all the work they put in on this one.
A grimy, dirty story of an ex-con named Joe (Nicolas Cage), who is running a successful tree poisoning business, until he slowly starts to become a father figure to an abused young boy (Tye Sheridan) who desperately wants to work for him and get away from his dangerous father (the late Gary Poulter). This film resembles "Mud" in many ways, especially by the presence of Sheridan who was in that film as well. However, what made "Mud" special was how the plot unfolded in a natural way and there seemed to be some direction behind the plot narrative. Here, the direction seems scattershot, like it does not know where it is going or what the point of the story is outside of "abuse is bad". The real treat here is the absolutely outstanding acting, especially from Cage who shows once again why he is one of the best actors on the planet when he is not doing stupid, silly blockbusters. Sheridan is special as well, and Poulter (an actual homeless man discovered and casted by the director) is Shakespearean level terrifying in his portrayal of a man with truly no soul. The movie has good intentions, and David Gordon Green is usually a solid director, but the way the plot unravels seems a bit contrived at times. Still, it may be worth seeing just for the performances alone, which are as said fantastic all-around.
Dan Schultz
Super Reviewer
The highlights of this film truly are the standout performances by the entire cast involved, and although "Joe" may seem a little slow moving at times, it is necessary to capture the emotion that each character shows in almost every scene here. To me, the film shares many elements from other from it's Texan tone to it's rundown families in need of money. As great as Ty Sheridan is, his performance last year in "Mud" is clearly showing once again here, as he played a very similar character. This is why I think actors (although they should do what they are good at) should try a bit more broadness to their careers. Again, he is just starting so I give him props for his great performance in this. Nicolas Cage has always been up and down with his films, but this is his best performance since "Bad Lieutenant." With a very solid story and fantastic performances, "Joe" is a very well-made film that I appreciate, but will probably never find myself watching again. The underlying tone was very off-putting to me and some of the shocking moments did not really need to be so graphic. Overall, it's a good movie that I am sure many will love.
Joe Quotes
| | |
| --- | --- |
| Connie: | You pretend to be asleep, but I know you'd cry if I said the wrong thing. |