The Joke (Zert)
(1968)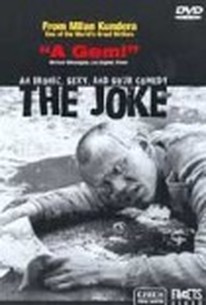 AUDIENCE SCORE
Critic Consensus: No consensus yet.
Movie Info
A man who has been drummed out of the Communist Party for telling a joke seeks revenge by seducing the wife of a prominent official. He is sent to be rehabilitated but believes the party has fallen victim to insiders who pay lip service to communal society virtues but are only out for themselves. What started out as a humorous interlude ends up with the man feeling demoralized and betrayed by the organization he had given his all to support. ~ Dan Pavlides, Rovi
Critic Reviews for The Joke (Zert)
All Critics (2) | Fresh (2) | Rotten (0) | DVD (1)
Jires' exceptional and sometimes incongruent damnation of his homeland is in turns mournful, furious, conflicted, and resolved to failure, but it's never less than moving.
Audience Reviews for The Joke (Zert)
Based on a Milan Kundera book, this Czech New Wave satire is over and done within 80 minutes -- not that the story calls for any greater length. Like so many Czech films of the late '60s, "The Joke" focuses on themes of government and oppression, but concurrent gems like "The Shop on Main Street," "The Cremator" and "A Report on the Party and the Guests" were more effective. Middle-aged Ludvik Jahn -- homely, unhappy, unlikable and dull (think John Casale) -- made a trivial joke on a college-era postcard that led the government to conclude he is a Communist. Subsequent persecution and punishment turned his life sour, but he's convinced he can extract some contemporary revenge by seducing the wife of one of his accusers. His pettiness and lack of charisma keeps the audience from fully rooting for him, and this is a rather glum, cynical film with few pleasant sights beyond the vulnerable wife, who's a cute little thing with a cheery spirit that defies her inner unhappiness. Be forewarned: The flashbacks are a bit confusing because the forty-ish lead actor also appears in scenes from his character's past. And unfortunately, the black and white cinematography is rather unattractive, as the camera avoids shadows and dwells on washed-out daylight scenes.
Eric Broome
Super Reviewer
A young Czechoslovakian man is expelled from the Communist party and sentenced to six years hard labor for writing "long live Trotsky" on a postcard as a joke; when he's released he tries to extract revenge from one of the students on the board that condemned him. This portrait of a wrecked life is an important warning that an inflexible ideology will inevitably used by bullies as a personal weapon and that totalitarian corruption seeps down to a very mundane level. From a novel by Milan Kundera, this has been called the most anti-Communist movie ever produced in a Communist country.
The Joke (Zert) Quotes
There are no approved quotes yet for this movie.