Space Battleship Yamato
(2013)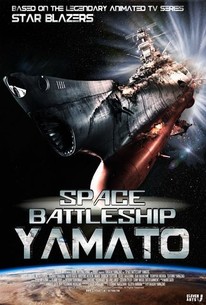 AUDIENCE SCORE
Critic Consensus: No consensus yet.
Space Battleship Yamato Photos
Movie Info
The live-action film, Space Battleship Yamato, is based on the Japanese sci-fi anime series of the same name. The series was originally broadcast in Japan in 1974. In North America, an English dubbed version of the series, known as Star Blazers, aired in the United States in 1979. The story is set in the year 2199. The Gamilas, a mysterious alien enemy, has been decimating the Earth to unlivable and irradiated conditions for the past 5 years. Humankind now lives underground to escape the radiation, but with only a year until extinction. One day while roaming the surface of Earth, former pilot Susumu Kodai (Takuya Kimura) comes across a capsule sent from the planet Iskandar that reveals there is technology that has the power to eradicate the radiation from Earth. A chosen crew of Space battleship Yamato takes off on the long trip to Iskandar with hopes to save the Earth. (c) Eleven Arts
Critic Reviews for Space Battleship Yamato
All Critics (2) | Fresh (0) | Rotten (2)
The whole thing is a mess: from conception, to tone, to aesthetics. Worse, Yamato never finds a valid reason to exist.
When aliens are about to blow up the Earth you make haste to stop them, but the protagonists of this live action movie version of the 1974 anime however find the time for long teary farewell scenes!
Audience Reviews for Space Battleship Yamato
½
Takashi Yamazaki steps up and delivers a futuristic science fiction adventure out of Japan.
Space Battleship Yamato contains a plot that is good enough to get by. Where the film really excels though is the emphasis on its characters. So much so, that it takes the film out to easily past 2 hours. Still, many of the characters do become likable.
The space battles are a bit brief, but they are beautifully rendered. For the first 90 minutes or so, the CG effects are nicely done. It is in the final 45 minutes, when the picture goes into "Iscandar" mode and CG overdrive, where the effects and story tend to take a dive; however, ultimately this movie is still visually pleasing.
Takuya Kimura's performance is acceptable as a leading man's role. The stunning Meisa Kuroki also shows that she can act as good as she looks. Thanks to the writing the rest of the supporting cast fail to disappoint.
Space Battleship Yamato contains some big speeches and those so-called epic scenes, thus it is worth the time for a viewing.
Space Battleship Yamato Quotes
There are no approved quotes yet for this movie.