Joy House (Les Félins)
(1964)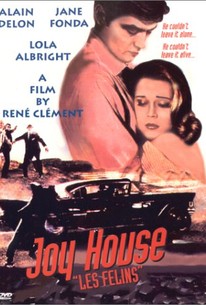 AUDIENCE SCORE
Critic Consensus: No consensus yet.
Joy House (Les Félins) Videos
Joy House (Les Félins) Photos
Movie Info
Joy House,The French James Dean Alain Delon (Fabio Montale, Rocco and his Brothers) stars as Marc, a small-time con man on the run from a mobster. After seeking refuge in the mansion of the widowed Barbara (Lola Albright) and her curvaceous cousin, Melinda (Jane Fonda), Marc becomes trapped in the passionate snares of both women, who are full of deadly surprises.
Audience Reviews for Joy House (Les Félins)
½
Twisty cat and mouse drama with excellent performances by the three impossibly beautiful leads. An evocative music score and sure handed direction by Clement in addition to the stars make this rather obscure film a nice surprise for fans of psychological thrillers. Look quick in the first scenes that's George Gaynes, from the Police Academy series and Punky Brewster, as the wronged husband.
Typically I'm a viewer who relishes French drama/suspense & romance entries, but this one seemed more the snoozer. A Parisian tennis pro/playboy (Delon) is on the run from goons bearing a lethal message sent by the spouse of his most recent extramarital romp. His laying low in a Riviera soup kitchen leads to meeting - and holeing up in the dusty mansion of - 'les felins,' the enigmatic & lovely duo of Lola Albright and Jane Fonda. Unfortunately for Delon, the potential menage a trois soon enough starts shaping up much more like a sleepover with Norma Desmond and Norman Bates. 2.35:1, Cinemascope-equivalent. The film's best recommendation to today's viewer is historical; Fonda was only a few of years out of the acting gate and (despite her father's brand name) had only logged parts little more than eye-candy. Then she ski-daddled to Europe to snag this role, into which she could sink her teeth. Her performance stands taller than that of pretty-boy Delon and Albright, and so reveals her future promise. When Fonda's scurrying about her household chores, she strongly portends her talented delivery in "Barefoot in the Park" just three years later. Proven in this film, Fonda was back in Hollywood within the year, showcasing in/as "Cat Ballou." And with French New Wave director Roger Vadim as husband-in-tow. Mostly shot on location in Nice. The B&W widescreen camerawork & composition is strong, but it still doesn't serve to steam up the lukewarm suspense/drama under which it simmers. Having previously viewed "Pierrot Le Fou," it seems this film's imagery of mid-Century France would have been far more satisfying in color. The image quality is good, however the disc construction is below-average. RECOMMENDATION: Not a bad film but, for most viewers not Fonda fanatics, better off left dangling near the bottom of their view-queue.
TonyPolito Polito
½
I think this movie was made more enjoyable by Alain Delon speaking english and also his face in general. Actually everybody was hot in this movie, which is why you want to keep watching it. Otherwise it's sort of corny and the characters are flat... but the ending was hardcore enough to save it.
Jenna Ipcar
Joy House (Les Félins) Quotes
There are no approved quotes yet for this movie.
Discussion Forum
Discuss Joy House (Les Félins) on our Movie forum!