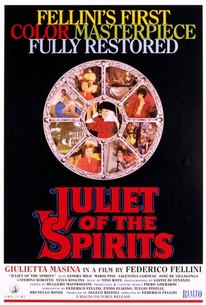 Juliet of the Spirits
1965, Fantasy, 2h 28m
29 Reviews
5,000+ Ratings
Where to watch
In Theaters
Rent/buy
Subscription
Rate And Review
Juliet of the Spirits Photos
Movie Info
Middle-aged Giulietta (Giulietta Masina) grows suspicious of her husband, Giorgio (Mario Pisu), when his behavior grows increasingly questionable. One night when Giorgio initiates a seance amongst his friends, Giulietta gets in touch with spirits and learns more about herself and her painful past. Slightly skeptical, but intrigued, she visits a mystic who gives her more information -- and nudges her toward the realization that her husband is indeed a philanderer.
News & Interviews for Juliet of the Spirits
Audience Reviews for Juliet of the Spirits
In comparison to Fellini's two previous movies, 'Juliet of the Spirits' is more emotionally resonant - also more structured. In '8 1/2' a filmmaker was going through a surrealist nightmare, this time a woman is going through one (Fellini wrote it for his wife, but it's just Fellini disguised not too subtly), this time in vivacious color, and the surrealist dreams and images are almost as fascinating as those seen in '8 1/2'. The score is classic, too, it's my personal favourite Fellini/Rota collaboration - no matter my undying love for 'La Dolce Vita's' score -, it's peculiar and at times overwhelming. 'Juliet of the Spirits' is an astonishing circus of colours, avant-garde juxtapositions, jokes, surreal mise-en-scenes, extraneous faces and characters, and everything we've come to know as Felini-esque. It's an orgy of delights and tied in second with 'La Dolce Vita' as my favourite Fellini movie, '8 1/2' coming in first.

"My wife thinks I'm cheating (and I am, I'm a great artist, I belong to everyone, how can anyone expect me to stay with only one, even my wife?) so I'll make a film, a great film ... it's about a wife who thinks her husband is cheating. Who do I get to play the wife? My wife, of course. It's so twisted, so vain, they'll call it genius." It may not be true, but its what I thought watching this empty exercise in visual overstimulation: this is the lie a cheating husband tells his loyal spouse.

Fellini's first film in color is this brilliant LSD-infused satire that enchants us with its gorgeous art direction and colorful costumes, while using a magnificent symbolism to depict the psyche of a passive woman who needs to break free from the bonfire of her married-life martyrdom.

Semi-autobiographical piece put forth by Fellini and his wife, Giulietta Masina. It's the story of Giulietta (Giulietta), the spouse of a wealthy socialite who is forced to come to terms with her fleeting youth and her husband's infidelity. True to his nature, Fellini uses an abundance of symbolism, abstract scripting and flamboyant characters to tell the story. For me, it's all a tad overwhelming. Maybe it's because this was his first color film, but there are so many extravagant visuals that it's hard to pay attention to the characters. I much prefer Fellini's earlier pictures where he cares about the story a little more and the scenery a little less.
See Details