Justice League Dark
(2017)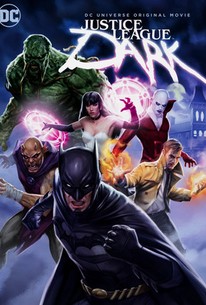 Justice League Dark Photos
Movie Info
A team of supernatural beings including John Constantine, Zatanna and Swamp Thing join forces against a supernatural foe.
News & Interviews for Justice League Dark
Critic Reviews for Justice League Dark
Audience Reviews for Justice League Dark
The name kind of gives it away as it's very dark and unless you're a hardcore fan of DC this movie may fly over your head as there's allot of unknown characters and the plot is very stuffed at times as in my kids were asking me what's going on? and who's that?, It was good to see Constantine finally make an appearance as he did bring his charm to the film, The animation and action were ok but the film itself just didn't interest me enough to care about what happened to the heroes or anyone, It had its moments but I wouldn't go back and re watch this anytime soon.
Jamie Clarke
Super Reviewer
The inclusion of Batman and the justice league wasn't essential but this introduction to the DC dark elements was okay. Deadman was terribly casted, that voice work was not suiting the character. The film isn't without its flaws but the characters are very interesting but just suffer from a convoluted storyline that gives them nothing. I'm hoping the live action film can learn a thing or two from what failed here. The DC animated has fallen from grace since Under the Red Hood and that's a shame. 17-04-2017.
Brendan Nicholls
Super Reviewer
It's nice to hear Matt Ryan voice Constantine again after his short tenure as the Hellblazer. It's also cool to see the oft-shunned Deadman get some attention, and I'll always give Batman-starring media a chance. But I have not been a fan of DC's more recent animated offerings. I feel they are simply going through the motions, and Justice League Dark is no great exception.
Justice League Dark Quotes
There are no approved quotes yet for this movie.