Kids
(1995)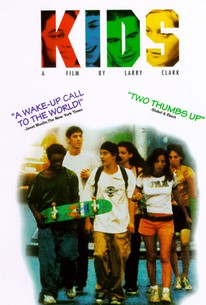 Movie Info
Telly is a New York teen who has a goal to de-flower as many virgins as he can. When one of his old encounters discovers that she is H.I.V.-positive, after only one encounter with a guy, Telly remains undaunted.
People Who Like this movie also like
News & Interviews for Kids
Audience Reviews for Kids
Heavy and shocking, Kids is a portrait of the mentality, and social behavior from New York City teenagers in the beginning of the 90's. With a bold screenplay by Korine, just like the Clark's direction, this film presents a strong subject, that it's to be reflected and discussed by all society. The unknown actors and they outstanding performances are terrific, what make the movie more realistic. Some critics say that Kids is pure pornography and pedophilia. But the thing is, the strong scenes and the language are unfortunately the real true about some teens, not just of New York suburb, but also of whole world. Kids, is not a film easy to watch, especially for the views too sentient. But is very good to know the dark side of the adolescent sexuality, drugs, culture situation, the beginning of AIDS in the cult pop, AIDS transmission, sex experience talk and much more. An contoversial picture, very recommentable and present. Fresh.
Lucas Martins
Super Reviewer
½
Like a car accident that you can't avert your eyes from, this is an unsettling display of sociopathy and delinquency on the part of a group of hateful, repellent teens, though it almost works as a relevant social commentary on adolescence and AIDS. I said almost.
Carlos Magalhães
Super Reviewer
In the nineties there was definitely a place for this kind of movie; shocking because it was obviously a true portrayal of what youth culture can be responsible for. It talked about sex, drugs, AIDS, street violence, and rape without a blink of the eye, showing a gritty world we all choose to ignore. For all those reasons, this is an indie classic that still upends social norms and draws attention to the perverse lives of teenagers. Still, in this day and age most people, after watching this, would say "I've seen worse." It may be atrocious, but there are still way worse things in films today than twenty years ago. What Harmony Korine and Larry Clark do get right are the characterizations of the teenagers, and what they say and do. The mannerisms of Telly, Casper, and Jenny are all spot on and really show the deep emotional complexities of the characters. For that reason this film still resonates for a lot of people, because we see kids doing questionable things, all the while victimizing themselves. For that reason this film is a good time capsule of skateboarding culture, but also a film that really draws out characters, and shows the vulnerability of kids.
Spencer S.
Super Reviewer
Kids Quotes
| | |
| --- | --- |
| Casper: | Why do they call you Casper? "Cause that's my name bitch." |
| Casper: | Why do they call you Casper? 'Cause that's my name bitch.' |