Kids for Cash
(2014)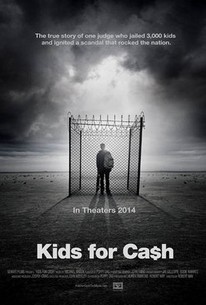 TOMATOMETER
AUDIENCE SCORE
Critic Consensus: Dispassionately presented yet frequently enraging, Kids for Cash uses the fallout from one horrific scandal to offer a thought-provoking critique of the justice system in general.
Movie Info
Kids For Cash is a riveting look behind the notorious judicial scandal that rocked the nation. Beyond the millions paid and high stakes corruption, Kids For Cash exposes a shocking American secret. In the wake of the shootings at Columbine, a small town celebrates a charismatic judge who is hell-bent on keeping kids in line...until one parent dares to question the motives behind his brand of justice. This real life thriller reveals the untold stories of the masterminds at the center of the scandal and the chilling aftermath of lives destroyed in the process - a stunning emotional roller coaster. (c) SenArts
Critic Reviews for Kids for Cash
Audience Reviews for Kids for Cash
It is one of the most disturbing stories of just how greedy and corrupt people can truly be. In 2000, Luzerne County Pennsylvania needed a new Juvenile detention facility, but couldn't afford it, so they privatized it. Leading the group that won the contract, were two of their own Juvenile court judges. That alone was a grey area, but not the issue. Soon, the judges learned that the more occupants the jail had, the more money the facility would receive from the state. So, despite the law, which requires juvenile offenders to be sentenced to the least restrictive environment possible, kids as young as thirteen, with no previous record, were being sent to JV for very minor offenses. As a result, the facility was receiving millions from the states, which the judges were embezzling. As the scandal unfolded, this documentary was filmed and shockingly, both judges agreed to be a part of it, claiming they were always tough on juvenile crime and had done nothing wrong. Judges never comment on cases and defendants are always advised not to talk to the media, but for some reason these judges did, and the way they justify their actions is truly sickening. There is even one scene where a mother confronts one of the judges outside of court house, holding a picture. She says to him, this is my son, he was fifteen when you put him in jail for drinking some beers and fighting with other teens. He served three years and within six months of being released he killed himself, and that's your fault. The judge could care less, it was truly amazing. The documentary is an eye opener and it follows the scandal through the family and offenders stories, through the investigation, right up through the trial and outcome, it really something to see. The whole thing really makes me wonder, if judges can be swayed that easily, just how corrupt is this country and how many truly innocent people are there sitting in jail or on a list somewhere, all because someone was paid to put them there?
Todd Smith
Super Reviewer
½
An infuriating (and devastating) documentary that shows how a despicable judge was responsible for ruining the lives of thousands of teenagers and families in a shocking scandal that could have only taken place in a judicial system corrupted by aberrations like for-profit prisons.
Carlos Magalhães
Super Reviewer
½
Nothing can get the blood boiling more than the notorious Kids for Cash scandal, in which a Juvenille Court Judge allegedly sent countless kids to lock-up for very minor offenses in exchange for a financial kickback. This documentary seeks to give a broader view to the scandal, and presents a well argued critique about the juvenile justice system. What is most unique about Kids for Cash are the interviews they secured from the judges in question, namely Mark Ciavarella. Civararella argues passionately that, while he improperly took money, that is was not a quid pro quo. In light of evidence, this seems dubious, but the documentary is more than even-handed. What I liked most was the interviews with the parents and kids that were affected, set against those that argue for senseless policies such as "zero tolerance". The result is a compelling piece, well structured and maturely executed. Where the film could have been stronger, however, is in the examination of private prisons themselves. They inherently lead to corruption and represent a system in which there is a built in incentive for incarceration. 3.5/5 Stars
Jeffrey Meyers
Super Reviewer
Kids for Cash Quotes
There are no approved quotes yet for this movie.