Kids Return
(1996)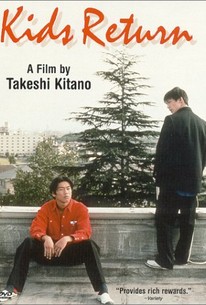 Movie Info
Following his 1995 brush with death in the form of a motorcycle accident, actor/comedian/writer/director Takeshi Kitano spins this wistful -- if bleak -- tale about a pair of high school buddies and their inevitable slide into adulthood. Bumptious Masaru (Kenichi Kaneko) and his quiet sidekick, Shinji (Masanobu Ando), spend much of their time harassing teachers and shaking down students instead of going to school. At one point they dangle a large anatomically correct doll before the class window of a particularly maligned teacher. One day, one of their favorite marks brings along a more skilled street punk to thwart his tormentors. Their thrashing is so thorough that Masaru drags Shinji to a boxing gym. There they learn the ways of pugilism, but it turns out that only Shinji has a gift for the sport. As Shinji rises in boxing rank, Masaru drifts away from his friend and joins a yakuza gang. ~ Jonathan Crow, Rovi
Critic Reviews for Kids Return
All Critics (5) | Fresh (5) | Rotten (0)
While it is perhaps not as stylistically accomplished as his later Dolls, nor as emotionally gut-wrenching as Hana-Bi, Kids Return is still a charming turn from the reliably idiosyncratic 'Beat' Takeshi.
Audience Reviews for Kids Return
½
Ideologically similar to 'Sonatine' yet structurally and thematically very different, 'Kids Return' sees auteur Takeshi "Beat" Kitano weave an occasionally beautiful story that strays from his usual self-immolating themes in order to focus more on the aspirational nature of life. The plot focuses on two teenage delinquents Masaru and Shinji as they try to understand their calling in life and separately experiment with both the Yakuza and boxing. Cinematically Kitano is once again very self-referential, drawing on his past as both a delinquent and one half of the comedy duo 'The Two Beats' in order to create believable and entertaining scenarios. The idea of 'mono no aware' is also visited again and the impermanence of childhood is one of the film's more interesting and heartfelt themes. It's no question 'Kids Return' is the work of a well seasoned and refined auteur, Kitano utilises the minimalistic steady camera style that has become a trademark of his work and allows composer Joe Hisaishi to create a beautiful soundtrack that flawlessly accompanies the film's exceptional visual flare. On the downside tough there are moments where the script seems somewhat drawn-out (un-deliberately) and, although entertaining, the moments in which Shinji and Masaru take a back seat in order for the film to focus on the lives of other teens pale in comparison to the rest of the film. Where 'Kids Return' suffers when placed amongst the likes of 'Sonatine' and 'A Scene At The Sea' , two of Kitano's best is with it's potency, and, although the ending feels like the best and most natural amalgamation of the events that preceded, in retrospective it lacks the same poignancy.
Cameron Sherwell
Super Reviewer
½
For some reason i keep forgeting that i even own this movie, when it's such a great film for all the right reasons. A "coming of age" story without all the usual cliches and bullshit of those type of movies. The fear anyone has to the "adult life", to become just what everyone told us we should become, instead of taking the risk of trying to be something made by ourselfs. All this is put together by Kitano with a great precision and attention to detail. In these days of "Juno" and other assorted artificial "teen" movies this is the type of movie the world needs more often.
Tsubaki Sanjuro
Super Reviewer
½
Takeshi Kitano captures, perfectly, that youthful fear of the unknown. Perhaps a fear that never truly goes away. This is the tale of adolescents that are conditioned to aim towards something from an early age, so early in fact, that the desire to change course is often ignored. In a very short amount of time these kids want to be baseball players, comedians, gangsters and boxers. Things go right, things go wrong, things go right and then wrong etc. It's all shot with Kitano's complete lack of sentimental crap and his beautiful subtlety. The boxing "montage" scene isn't like others, where the music swells and we see slow motion punching. It's a simple, but powerfully edited moment, where Ando keeps knocking people down. Kitano's trademark sudden violence and humour also make small, but memorable appearances. An excellent, thoughtful and moving film.
Luke Baldock
Super Reviewer
Kids Return Quotes
There are no approved quotes yet for this movie.