Kikujiro
(2000)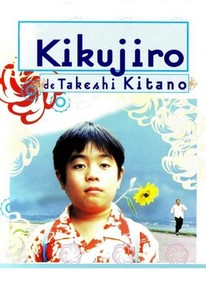 Movie Info
Best known for his stylish crime dramas, actor and director Takeshi Kitano (aka Beat Takeshi) takes a left turn into more heartwarming territory with the sentimental drama Kikujiro. Masao (Yusuke Sekiguchi) is a nine-year-old boy who lives with his grandmother. His father is dead and he's been told his mother is forced to live far away due to her job; he has no memory of her. One day, Masao decides it's high time he met his mom, so armed with a photograph and an address, he sets out in search of her. Before long, he encounters Kikujiro (Takeshi), a tough guy with a sharp tongue. Kikujiro and his wife think it's a bad idea for the little fellow to be traveling by himself, so Kikujiro (on his wife's insistence) hits the road with Masao to keep an eye on him. Masao and Kikujiro become close as they share adventures on the road, leading up to a troubling revelation about Masao's mother and Kikujiro's efforts to bring the child back to happiness. Kikujiro was shown in competition at the 1999 Cannes Film Festival.
Critic Reviews for Kikujiro
Audience Reviews for Kikujiro
½
definitely the sweetest of kitano's films and a chance for him to show his comedic talents. it's not quite like most american films with similar themes. kitano plays off his gangster image as a loud mouth lowlife who still manages to intimidate people. the kid is a bit of a blank slate with deadpan expression through most of the film. lots of quirky characters and odd situations with a minimum of sentimental mush, altho the music gets a little sappy at times. overall charming
Stella Dallas
Super Reviewer
Bad tempered small-time criminal Takeshi Kitano is "volunteered" to take a young boy to meet the mother he has never known, and after blowing all their money at the track they resort to hitch-hiking meeting the inevitable mix of oddballs along the way. Anyone familiar with the films of Beat Takeshi will know of his formula of crime drama punctuated by comic snapshots of "gangsters at play", but here he ditches the whole gangster element leaving a warm if slightly aimless character study cum road movie. There is little in the way of narrative or drama, the story instead concentrating on the relationship between the boy and Kitano's worst-role-model-ever of a father figure and their comic mishaps. It may be because I'm a little too hard-bitten and cynical, but for me this wasn't quite enough; there are laughs and some nice images, but when a film dispenses with narrative driven drama, an emotional connection must replace it, and I didn't really feel it. A pleasantly amusing tale, but it all felt a little slight and insubstantial to me.
½
I always had high expectations for Kitano's movies but I never expected this one to be such a great movie, Truly refreshing
Kikujiro Quotes
There are no approved quotes yet for this movie.