Kill Bill: Volume 1
(2003)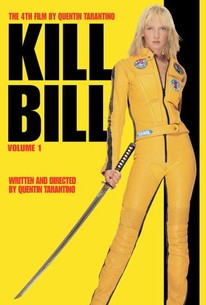 TOMATOMETER
AUDIENCE SCORE
Critic Consensus: Kill Bill is admittedly little more than a stylish revenge thriller -- albeit one that benefits from a wildly inventive surfeit of style.
Kill Bill: Volume 1 Videos
Kill Bill: Volume 1 Photos
Movie Info
An entire wedding party is slaughtered during a dress rehearsal in a rural chapel: the pregnant woman in the blood-splattered wedding dress is Black Mamba, better known as The Bride. The assassin, Bill, and his circle known as The Vipers left The Bride for dead, but unluckily for them she was merely comatose. Four years later, The Bride suddenly awakens from her coma and realizes what has been done to her. She sets off on a ferociously focused mission, setting out to seek revenge on her former master and his deadly squad of assassins. One by one, she kills the various members of the assassin group. She saves Bill for last.
News & Interviews for Kill Bill: Volume 1
Critic Reviews for Kill Bill: Volume 1
Audience Reviews for Kill Bill: Volume 1
The last 45 minutes of this thing are pure cinematic heaven. The steps taken to get to this point are slightly less satisfying, but ultimately 'Kill Bill: Volume 1'' is a fitting tribute to the various action flicks of the 60's and 70's.
Kill Bill is just another piece of over-hyped fanfare with no real merits. Like many of QT's other products, there is a shock-value installed through violence which does nothing but make the film gratuitously brutal. If you remove all graphic scenes from KB you are left with a sadly inept script, bad acting and a "funky" if not cacophonous soundtrack (sound like Reservoir Dogs?). Luckily for us, QT knows Americans can remember violence much longer than great writing so he can reap his rewards. I'm not even going to compare this film to the thousands of Asian KungFu knockoffs. Everyone knows a Hollywood-produced movie will succeed if it's the first time an American audience "discovers" it (The Matrix, Jackie Chan flicks, etc -- none of which are consdiered novel by HK cinema standards).. Why can't QT make a picture with the qualities of other acclaimed directors like Kubrick, whether it's visual (2001), dialogue-driven (Paths of Glory) or both (A Clockwork Orange)? Leave the violence behind and jump on a more creditable bandwagon. 1/2 star 05-2007 (Updated)
Bruce Bruce
Super Reviewer
A former member of The Deadly Viper Assassination Squad is betrayed and left for dead on her wedding day and sets about revenging herself upon her erstwhile colleagues. Quentin Tarantino has often been accused of plagiarism in the past, and Kill Bill not only happily acknowledges his many homages it positively revels in them, right from the "Shawscope" intro screen. His films are clearly a labour of love and every reference, every shot, every song on the wittily compiled soundtrack, even every sound effect has been carefully selected. Tarantino's films are not, as many po-faced critical snobs suggest, style over substance because the style IS the substance. This is a movie for the movie lover and Tarantino's skill is in his ability to seamlessly blend so many genres, from anime to martial arts to samurai to film noir to spaghetti western to blaxploitation and create something entirely his own. If his audience dried up, I'm in no doubt that he would continue making films even if it cost him his last dollar, for the sheer pleasure of it and if it ever came down to that, I'd happily chip in.
Kill Bill: Volume 1 Quotes
| | |
| --- | --- |
| The Bride: | Those of you lucky enough to still have their lives, take them with you! However, leave the limbs you've lost. They belong to me now...except you Sofie! You stay exactly where you are. |
| | |
| --- | --- |
| The Bride: | This Pasadena homemaker's name is Jeanne Bell. Her husband is Dr. Lawrence Bell. But back when we were acquainted four years ago, her name was Vernita Green. Her code name was Copperhead. Mine, Black Mamba. |
| | |
| --- | --- |
| The Bride: | The bald guy in the black suit and the Kato Mask is Johnny Mo, the head general of O'ren's personaly army,the crazy 88. And just in case you were wondering how could a half breed Japanese-Chinese American become the boss of all bosses in Tokyo, Japan, I'll tell you. The subject of O'ren's blood and nationality came up before the council only once. The night O'ren assumed power over the crime council. |
| | |
| --- | --- |
| Elle Driver: | [to an uncounscious Beatrix] You know, I may have never liked you. Point of fact,I despise you. But that shouldn't suggest I don't respect you. [takes a needle injection from her pocket] Dying in our sleep, a luxuary our kind is rarely afforded. |
Discussion Forum
Discuss Kill Bill: Volume 1 on our Movie forum!