The Killer That Stalked New York
(1950)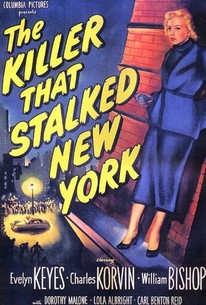 AUDIENCE SCORE
Critic Consensus: No consensus yet.
Movie Info
Singer Sheila Bennet (Evelyn Keyes) arrives in New York City by train after a trip to Cuba, carrying a small cache of smuggled diamonds -- what she doesn't know is that she's also carrying a deadly smallpox infection. Her philandering husband (Charles Korvin) isn't too worried about her violent headaches and fever, especially as he is carrying on behind her back with Sheila's younger sister (Dorothy Malone). Sheila's condition worsens, however, and she ends up at a local clinic, where she infects a young girl (Beverly Washburn) who crosses her path. The police and public health authorities get called in after the girl falls ill, and begin desperately trying to find the source of the girl's infection -- meanwhile, Sheila is hiding out from the federal men following her over the diamonds, and also realizes that her husband is trying to cheat her. She tries to confront her sister, and then seeks shelter from her low-life brother Sid (Whit Bissell), who runs a flop-house on skid row. Sheila finally realizes what is happening to her, shooting her way past the doctor (William Bishop) trying to help her -- she may not live long, but she wants to last long enough to catch up with her husband. Meanwhile, the police and the doctor try to reach her in time to find out where she's been and who she's seen and spoken to, before that information dies with her.
Critic Reviews for The Killer That Stalked New York
Audience Reviews for The Killer That Stalked New York
½
Overly earnest in the 50's way with Keyes as a modern Typhoid Mary and many scenes really more proclamations than narrative. Still not without its enjoyments including a supporting cast of familiar faces like Connie Gilchrist and Jim Backus.
The Killer That Stalked New York Quotes
There are no approved quotes yet for this movie.