Killing Gunther
(2017)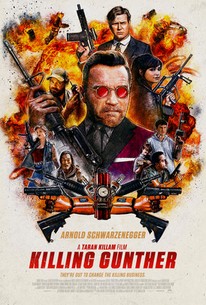 Movie Info
A comedy set in the world of contract killers. A group of young, raw and undisciplined assassins hire a docu-crew at gun point, to have undeniable proof that they're the ones who will kill the most infamous hitman of all time, Gunther. But Gunther is on to them before they know it and he makes it his personal mission to make their lives a living hell. It becomes a race against time: kill or be killed, as the hunters quickly become the prey.
News & Interviews for Killing Gunther
Critic Reviews for Killing Gunther
Audience Reviews for Killing Gunther
½
I liked this movie more than I thought but at the same time I felt a little cheated too, As the only reason I wanted to see this movie was because I'm a huge Arnie fan and if he wasn't in it I wouldn't of bothered, But we don't even see him until the final act, The film was good though as a group of hitmen document themselves trying to take out Gunther the best hitman in the world, It's full of some fun twists and turns, Some pretty fun action and it's got some great humour that worked more than it should of, The movie gets turned in its head when Arnie comes into it but it worked well even if it did get silly in places, Apart from having some dodgy effects and being mislead by the trailer, Killing Gunther was a good unique film that is worth a watch.
Jamie Clarke
Super Reviewer
½
That's a damn fine poster you've got there, Killing Gunther. Unfortunately, it's also indicative of Killing Gunther's biggest problem: Leading the promotional material with Arnold Schwarzenegger. I know, from a marketing standpoint, it makes a hundred and five percent sense, totally get it. But purely in terms of the experience you go through from watching a movie, I feel absolutely certain that Killing Gunther would have been exponentially better if Arnie's involvement was kept secret. It seems very much as if the movie was built that way, and then the direction was changed some time after post-production. In the end, Killing Gunther is an okay movie, but it might have been *great* if the Gunther character was a genuine reveal in the film, instead of the "Fuckin' finally" moment we ended up with.
½
Stealing tone from What We Do In The Shadows, this mockumentary's gist is what hilarity might ensue when incompetents try to kill the best hitman in the world. The answer: none. I hope they had fun filming it. How bad is it? When Arnold hadn't showed up by the last third of the movie I began to hope he wouldn't.
Kevin M. Williams
Super Reviewer
Killing Gunther Quotes
There are no approved quotes yet for this movie.
Discussion Forum
Discuss Killing Gunther on our Movie forum!