The King and the Clown
(2005)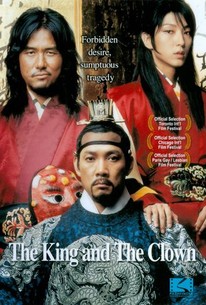 AUDIENCE SCORE
Critic Consensus: No consensus yet.
Movie Info
South Korean director Lee Joon-ik's feature The King and the Clown has the double distinction of being the highest-grossing film in Korean history at the time of its release and one of the first Korean commercial films to deal openly and unabashedly with gay themes; it is regarded in many quarters as "the Korean Brokeback Mountain." Adapted from Kim Tae-Woong's play +Yi, this period drama concerns two 16th century, Chosun Era clowns: the supremely self-assured Jang-seng (Kam Woo-seong) and transsexual Gong-gil (Lee Jun-gi), who earn a meager living as street performers in Hanyang. Miraculously, their excruciating poverty comes to an end when the tyrannical King Yon-san (Jeong Jin-yeong) catches their act and, delighted, invites them to serve as resident court jesters at his palace. But matters grow increasingly complex and tricky when Yon-san feels a torrent of lust for Gong-gil and attempts to possess the androgynous performer. This elicits unbridled jealousy from Jang-seng and not only sets him on a head-to-head collision course with the king, but threatens to propel Yon-san into full insanity.
Critic Reviews for The King and the Clown
All Critics (2) | Fresh (0) | Rotten (2)
As the film collapses to its messy, ridiculous conclusion I was left with a strong feeling of a lost opportunity, a potentially enlightening epic coated with enough schmaltz to make it almost camp.
A little disappointing.
September 6, 2006
Audience Reviews for The King and the Clown
½
The mock of a jester and the descent of a kingdom to insanity, The King And The Clown is an odd fusion of romance, drama, and comedy with style and extravagance. Ruthless.
Jan Marc Macababayao
Super Reviewer
½
I think this movie is way too overrated. And the storyline that is written over here explains 30% of it. I did liked the beginning but it gets boring afterward. None of the jokes made me laugh (it was too lame). But the acting was superb though. I thought Lee Jun Ki was a girl. Damn. Never seen a guy looked so girly without makeup.
Dead Angel
Super Reviewer
½
Well, I don't understand how Korean people loves this movie really really much... I just don't totally understand with what Lee Jun-ik want... He made the story of ruthless king who doesn't look like a king because he is so childish... And the clown themselves, they're not that funny... Maybe I have a little laugh in the beginning, but the later I go, more worse that I get.. The story get boring, the king become totally ruthless, he kills every people who is stand in his way... And I thought the Lee Joon-ki factors maybe works for people, but I don't enjoy it...
Sanjaya 丘耀文
Super Reviewer
The King and the Clown Quotes
There are no approved quotes yet for this movie.