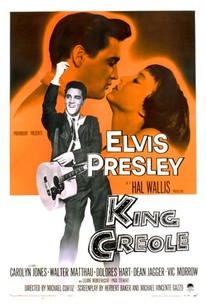 King Creole
1958, Musical, 1h 56m
23 Reviews
5,000+ Ratings
Where to watch
Rent/buy
Rent/buy
Rent/buy
Rate And Review
Movie Info
Denied his high school diploma because of a schoolyard fight, Danny Fisher (Elvis Presley) is unsure how he's going to support himself and his unemployed father (Dean Jagger). He briefly flirts with a life of crime before a club owner (Paul Stewart) hears him singing and offers him a job. Things look promising until rival club owner and Danny's former boss, Maxie (Walter Matthau), tries to lure him back with threats and the charms of his sometimes-girlfriend, Ronnie (Carolyn Jones).
Audience Reviews for King Creole
King Creole was the first Elvis movie that I saw and I found out it was a good movie. Unlike many singers who try out their ability at acting, Elvis is actually a pretty good actor. Before watching King Creole, I never watched any of Elvis's movies because I thought that they would all be musicals and just be a bunch of people singing and acting crazy. But after watching King Creole I found out I was wrong. It was a good drama movie and now I understand why Elvis was in so many movies, not because he was a popular singer but he could also be a great actor. Walter Matthau and the rest of the supporting actors and actresses also did a good job. It's about how Elvis became a singer at a local club and gaining fame for his ability while trying to stay away from a group of punks who threatened him if he didn't cooperate. It's an all around great movie and I recommend it to anyone. Now I'll probably give a lot more Elvis movies a chance after seeing King Creole. NOTE: That was my Amazon review from the year 2000. It's still the only Elvis movie I've ever seen. I've never been a huge fan of his, I just like a few of his songs, but wouldn't mind seeing some more of his films.

Poor acting again by Elvis

Probably the closest you're going to get to a "proper" film starring Elvis. It has some semblance of plot, the B&W photography is nice and the songs do not seem quite so intrusive. It was obviously trying to cash in one the burgeoning "teen" bandwagon, but not bad.

My favorite Elvis movie. Kind of a James Dean story but Matthau is fun to watch.
See Details