Kisses
(2010)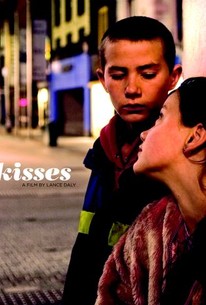 TOMATOMETER
AUDIENCE SCORE
Critic Consensus: Although admittedly sleight, this gritty but tender coming-of-age Irish drama features some impressive work both in front, and behind the camera.
Movie Info
On the fringes of Dublin two kids, Kylie and Dylan, live in a suburban housing estate devoid of life, colour and the prospect of escape. Kylie lives with five other siblings and her overworked mother. Next door, Dylan lives in the shadow of an alcoholic father and the memory of an elder brother who ran away from home two years earlier. After a violent altercation with his father, Dylan runs away from home and Kylie decides to run away with him. Together they make their way to the magical night time lights of inner city Dublin, to search for Dylan's brother in the hope of finding the possibility of a new life. Lance Daly's vision of Dublin, as seen through the innocent eyes of our protagonists, is a kaleidoscope of magic, wonder and mystery. But as the night wears on, and Dublin takes on a darker character, the two kids have to rely on the kindness of strangers, the advice of Bob Dylan and their trust in each other to survive the night.
News & Interviews for Kisses
Critic Reviews for Kisses
Audience Reviews for Kisses
½
Irish movie KISSES was one typical and enjoyable road movie with a very simple plot set around Christmas time in the streets of Dublin. It followed the adventures of two children Dylan (Shane Curry) and Kylie (Kelly O'Neill), who are neighbors, and they decided to run away from their awful family on Christmas Day.It was a short feature movie filmed some parts in black and white, showing mostly the journey of the kids,in the dark side of Dublin, in the dangerous back alleys, as they tried to survive on their own.The movie by itself was good, also the photography, and music by Bob Dylan, the dialog was pure Irish, but with the help of English subtitles, it will surely help you a lot. I was captivated how they built their friendship,and their acting which was so natural.
Daisy Maduro
Super Reviewer
½
The shifting contrast and saturation of color throughout was used creatively to show the dull/scary home life and exciting/scary life on the streets of the young heroes. Shane as Dylan is a quiet boy whose father can get violent. Kelly as Kylie, his neighbor, is expressive and very visually interesting from the camera's perspective. Kylie helps Dylan escape when his father has another violent outburst. Like in many families, Kylie doesn't get along with her big sister, but she also doesn't feel she can tell her mom about sexual abuse from her uncle, so she decides to run away with Dylan. As the opening image of a dead gold fish shows, the movie is about some of the uglier things pre-teens could go through. They make their way to the big city of Dublin and have fun, at first, shopping at a mall. Like many kids their age, they love those wheelie shoes. They try to search for Dylan's older brother who had run away several years before. It is quite a quest trying to survive on the streets and they meet a bunch of colorful characters. They feel free and have fun as often as they struggle to find food and safe shelter. Eventually Dylan must return the favor by saving Kylie from a very dangerous situation and they officially decide they belong together. They face death out on the streets, but when they are returned home, home seems just as dangerous. You are left wondering if being there for each other will be enough to pull them through. "You were right. There is no devil. Only people."
Byron Brubaker
Super Reviewer
Kisses Quotes
There are no approved quotes yet for this movie.