Kissing a Fool
(1997)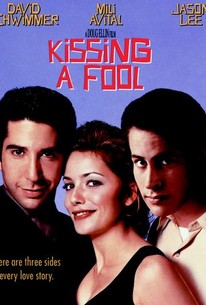 Movie Info
Jay is a novelist, hopelessly in love with his ex-girlfriend. Max is a womanizing sportscaster. When Jay introduces Max to his publisher Sam, they become engaged in just 14 days. Max worries about settling down, and Jay and Sam become closer while working on Jay's book together.
Critic Reviews for Kissing a Fool
Audience Reviews for Kissing a Fool
½
"Kissing a Fool" isn't so much a bad movie as it is a plain and ordinary one that never really aspires to be anything special. The three leads are all pretty enough, but the love story is lazy and the film isn't really about what it's supposed to be about. David Schwimmer is playing unconvincingly against type, and you never really buy him as the boorish womanizer. It's an obnoxious performance apparently designed to put his TV past behind him, but all it's destined to do is completely alienate his fan base. I've always liked Jason Lee, on the other hand, and he fares a little better here simply because you like his character so much more. As the film heads down its predictable path to the ending everyone knows is coming, there are no surprises along the way. It sets up a premise, eventually involving the insecure and immensely unlikable Schwimmer asking his pal to seduce his fiance to see if she'll remain faithful, but that is never followed up on. There's really no reason to delve into that story since we all know how that will play out from the start. There's some good music sprinkled throughout, but the needless and distracting profanity is really unnecessary for a film of this nature. The screenwriter is novelist James Frey, who would later be exposed as a fraud for making up a lot of the details of his memoir. Based on the banal and forgettable "KIssing a Fool", he could be called a hack as well. This insipid wannabe romance is little more than a poor excuse for a date movie.
Timothy Sanders
A predictable, boring romantic comedy with Schwimmer as sportscaster who sleeps around, finds the "woman of his dreams" and promptly asks his best friend to see if she'll sleep with him to ascertain whether she really loves Schwimmer. And it just goes downhill from there. No laughs, no cuteness, no feelings of romance, and a Bonnie Hunt wasted in a narrator's role.
Don Schick
David Schwimmer plays Max, a womanizing Chicago TV sportscaster who falls for Sam played by Israel native Mili Avital, his attractive young publisher but who he feels is too good to be true. Max and Sam seem perfect for each other but Max wonders if he can really keep Sam "satisfied" long-term and tries to get his best friend Jay (Jason Lee) to see if she can become unfaithful. Jay is hesitant to do this being the sensitive soul that he is plus he is still grieving over the breakup of his slutty model girlfriend but things become complicated when Jay also succumbs to Sam's charms and begins to fall in love with her.
Discussion Forum
Discuss Kissing a Fool on our Movie forum!