Kite
(2002)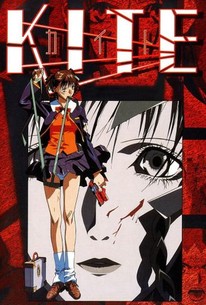 AUDIENCE SCORE
Critic Consensus: No consensus yet.
Movie Info
In this two episode OVA, Sawa is a young woman whose parents were killed by a homicidal maniac when she was a little girl. Sawa was raised by the detective who was assigned to investigate her mother and father's death, and as she grew up seeing so many criminals fall through the cracks of the judicial system, she became determined to do something about it. Now Sawa is a college student by day and a deadly vigilante by night, going after the bad guys the law can't touch.
Critic Reviews for Kite
There are no critic reviews yet for Kite. Keep checking Rotten Tomatoes for updates!
Audience Reviews for Kite
½
Hmm if your not familiar with what this film is well its an exploitation film or the exploitation of school girls who get raped and are forced to murder people by there masters bids and of course its pure hard core stuff if you have seen it uncut with extremely violent and hard core rapes and murder scenes as well as really messed up stuff that happens else were. If your not 100% sure what exploitation is well it's a genre in the 70s that exploits different types of things for example my favourite movie is Cannibal Holocaust that's jungle like settings with cannibals and extremely violent and unnecessary rapes, this film really does just play a major tribute to that stuff. Sawa is a school girl who finds out a bunch of gangsters have brutally killed her parents and Akira the detective takes her in but over the course of this he starts to rape her and tell her very nasty things and she is like what 7-9 years of age? And also he gives her earrings with the blood of her mum and dad in each so besides having sex with her he makes her into an assassin but she is not the only child assassin out there. I think this is a big take on the rape and revenge genre films like I spit on your grave but with more on a violent twist to it, but overall again its pure Hentai with some major action elements. If you don't know what Hentai is its anime pornography so far I haven't seen this movie Uncut but in turns of violence's it is. Sawa herself is wonderfully drawn with true (anime) or animation appearance same goes for the rest besides all the hard core sex elements that Mr. Yasuomi Umetsu stuck in I liked the action scenes a lot that bathroom shootout was just epic. And again the animation quality is really good no CGI just traditional animation. I think I come to a close and nothing more I need to say? I wouldn't say watch this if your offended by young girls that get raped or are murderers.
Ariuza koraw
Super Reviewer
Okay only a few days ago I just watched the New York Ripper and so Meany have said it's one of the most Controversial movies of the 20th century. Yes and no do I agree but to me the most controversial movie of the 20th century is Caligula, Cannibal holocaust, Ken park and kite. And this movie is truly the only Anime movie to get Banned were I live because Kite has 2 categories Hentai and Violence. By Hentai I mean Child pornography, rapes, full on nudity, Pedophiles. And Violence I have to put kite as one of the bloodiest movies I have ever seen mainly because of all the acts of grizzly murders. I have only seen Kite in a censored version as I am told here you can never see Kite here Uncut. The censored version was bloody enough I can't even think of what the uncut version would be like? Sawa is a teen just starting high school when a grope of men brutally murder her family. Akira and his partner take Sawa in and adopt her but not long after Akira begins to sexually fantasy about her and every night begins to rape her. Akira gives Sawa earrings with each one of them containing the blood of her parents. When guardianship is over Sawa becomes a major assassin built on murdering any one who is just like Akira or is greedy or a pedophile. To me Akira made Sawa a complete monster the way she just murders people is enough to make me need to skip throw that scene. Though the movie has an okay story but I felt the scenes were Sawa was getting raped ruined it a bit. I also find this to be more of a Rape and revenge film then anything else. Voice acting and animation was extremely good. I felt that the quality brought out every little bit of detail. This is just me but I found the second movie to be much better then the first mainly because it stays away from the Hentai. But all I can say is this movie is very recommended but you really should see the censored version. I really hated the rape scenes. But like people have said even if you don't like Anime i am sure people would enjoy this very much. Keikos score 80-100
½
This movie was interesting. The best parts of this movie were the assassination scenes. It also had two scenes one which I thought was completely irrelevant. I would not watch this movie again, it was a one time watch for me.
Marion Ravenwood
Super Reviewer
Kite Quotes
There are no approved quotes yet for this movie.