The Trap (Klopka)
(2007)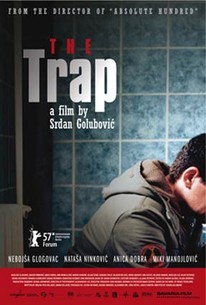 AUDIENCE SCORE
Critic Consensus: No consensus yet.
Movie Info
A man must make a terrible decision for the sake of his family in this downbeat drama. It's 2006, and in Serbia the divide between the rich and the poor has never been wider or more punishing. Mladen (Nebojsa Glogovac) is an engineer stuck in a low-paying job that barely supports him, his wife, Marija (Natasa Ninkovic), and their ten-year-old son. Already walking on thin ice financially, Mladen and Marija crash through when they learn that their son has been diagnosed with a serious illness, and he'll die soon unless they can arrange for him to have specialized surgery in Europe. Mladen and Marija are unable to pay for the operation, and with few other options, Marija places an ad in the paper asking for financial help. One person answers the ad -- Milos (Miki Manojlovic), a sinister gentleman who is willing to pay the couple handsomely if Mladen will kill a man who has been taking business away from him. Mladen's conscience demands he refuse the offer, but as his son's health deteriorates, he begins to wonder if he could take a life in order to spare his child. Klopka (aka The Trap) was adapted from a stage drama by Nenad Teofilovic. ~ Mark Deming, Rovi
Critic Reviews for The Trap (Klopka)
Audience Reviews for The Trap (Klopka)
12 September, 2014 While the plot is about okay, the execution is a let-down. The pacing is inconveniently and unnecessarily slow. Such a thriller ought to have a brisk pace, and better twists and turns (which are hard to find herein). Since almost everything is predictable, there's hardly anything to keep me hooked. Yet, I watched it till the ending credits, longing for something worthwhile to occur. My bad, I reckon. Aptly named, I'd rate the movie 1/10.
familiar stranger
Super Reviewer
½
Srdan Golubović is a well known outside the Balkan. Director of the critically acclaimed Apsolutnih sto (Absolute Hundred) (2001), in this film turns his attention to a prosaic, personal nightmare that asks the question: How much is any person's life worth? 'The Trap' is set in modern-day Serbia, full with desperation and lack of vision. Mladen (Nebojsa Glogovac) is an honest construction businessman struggling to make ends meet - corruption and theft are endemic in both his profession and the country as a whole, but he has the support of his loving wife Marija (Natasa Ninkovic) and his young son Nemanja (Marko Djurovic), whom he adores, to fall back on. Then, disaster - Nemanja is diagnosed with a rare, life-threatening heart condition that is operable, but will cost 30,000 to carry out the procedure. In desperation, Marija places an advert for help in the local paper. A man, Kosta Antic (Miki Manojlovic), offers to pay the entire sum, but there's a big catch - Mladen will have to murder Antic's business rival. With his options running out and his son's health deteriorating, which way will Mladen go, and what price will he have to pay? Typical film-noir movie with excellent acting and well developed story which picked up the Grand Prix at the Sofia International Film Festival 2007. This wonderful art work is highly recomended for all real movie lovers!
"The Trap" starts with Mladen(Nebojsa Glogovac), an engineer, second guessing himself while handling a gun which belies his previous happy domestic life with Marija(Natasa Ninkovic), a teacher, and their young son Nemanja(Marko Djurovic). That all changes one day when Nemanja is rushed to the hospital. Their doctor(Bogdan Diklic) informs them that unless the boy gets an operation that costs 26,000 euros in Berlin, he could die. Hard as they might, they cannot come up with the money and even take out an ad in the newspaper but to no avail. That is until a mysterious benefactor(Miki Manojlovic) says he will give Mladen 30,000 euros if he kills a man. To its merit, "The Trap" takes a straightforward approach to its material that could have otherwise turned into just another cliched thriller. And the movie makes good use of a Belgrade that is simultaneously booming and busting; lots of people making money but nobody has any. That leaves Mladen and Marija as the only honest people not on the make. But it also leaves them in nothing more than a veritable ethics quandary that works itself out in the most rote fashion imaginable.
The Trap (Klopka) Quotes
There are no approved quotes yet for this movie.