Km 31
(2006)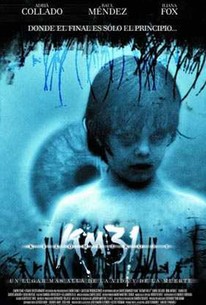 Movie Info
Mexican folklore melds with J-horror elements and the brooding atmospherics of Spanish horror specialist Jaume Balaguero in director Rigoberto Castaneda's loose adaptation of the La Llorona legend - a frightening tale that has been passed down from parent to child for generations. Agata and Catalina Hameran are twin siblings whose already powerful bond was infinitely intensified when their mother suffered an unusually traumatic death. It was on that day that the sisters discovered they have the power to communicate telepathically, regardless of the physical distance between them. One night, when Agata is badly injured in an accident on the 31st kilometer of a dark road that runs alongside the forests of Mexico City, Catalina experiences an overwhelming wave of dread. While Agata was rendered comatose in the accident, Catalina continues to hear her sister cry out in agony from some alternate plane of reality and realizes that something is horribly wrong. Compelled to explore the history of this lonely stretch of road after a series of bizarre supernatural occurrences, Catalina soon finds out that Agata wasn't the first person to suffer tragedy at the 31st kilometer marker, and vows to uncover the connecting factor between this strange series of seemingly unrelated accidents.
Audience Reviews for Km 31
It is obvious that this movie s higly influenced by J-Horror movies. Good performances, dark cinematography and good special effects, but the the author and the director were not able to give a suitable resolution to the plot and I was absolutely frustrated with the awful ending. Not bad at all but not a movie a would recommend.
I had a huge expectations on this Movie, but already after 30 minutes I figured out what was going on the km 31. Watched it to end and I said to myself "never trust the Trailers." lol
So I watch this on the same day as They. The first scene is incredibly familiar and illustrates exactly what is wrong with horror today. The films were made a few years apart, in completely different countries and I'm not accusing of plagiarism as the scene wasn't that original to begin with. Somebody is driving along at night on an empty road. The radio starts to act up and as the driver looks down to try and sort out the problem something dives in front of the car. The car stops and the driver gets out and uses a torch to find what they have hit. It's boring, boring horror as it is familiar and not scary. The rest of the film is okay, looking grim and well paced. Of course there's some old woman who knows everything, avoiding the need to do any investigation work. The ending is the same as any recent ghost story with our human friends trying to bring piece to the one at unrest. The relationship between the main three characters is wonderful, as is the policeman pointlessly investigating years worths of ghost sightings. Unfortunately it's just all same ol' same ol'.
Luke Baldock
Super Reviewer
Km 31 Quotes
There are no approved quotes yet for this movie.