Knights of Badassdom
(2014)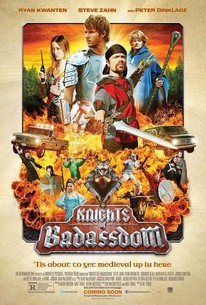 Knights of Badassdom Photos
Movie Info
KNIGHTS OF BADASSDOM follows three best friends (Peter Dinklage, Steve Zahn and Ryan Kwanten) and dedicated LARPers (Live Action Role Players) as they take to the woods to reenact a dungeons and dragons-like scenario fresh out of the mythical Middle Ages. Trouble arises after they unwittingly conjure up some serious evil in the form of a blood-lusting Succubus, from the pits of hell. (c) eOne
Critic Reviews for Knights of Badassdom
Audience Reviews for Knights of Badassdom
With some pretty decent laughs, but overall superficial roleplaying comedy. One just can't always be entirely sure if the movie is making fun of things or celebrating them. It's amazing how many genre heroes they got to play in this. The result works as comedy, not very much as horror film and would have been so much more fun with a few more pop culture references and less predictability.
This film had such marvelous potential to satirize and lampoon, but it really didn't measure up. There are funny moments in the film, but few of the jokes were particularly clever. The story is more silliness than satire, which is a mistake for this type of geek-targeted film. Special effects and makeup were moderate-to-low budget. As for acting, Zahn and Simpson were the only good performers. Kwanten seemed to be reprising his "True Blood" role as Jason Stackhouse with geeky friends. Dinklage is given no opportunity to showcase his abilities. (I would have loved to see Dinklage turn in an overly dramatic, high fantasy performance in the style of "Game of Thrones", playing a truly dedicated fantasy geek on a damn-the-world holiday. Alas! The Fates decreed otherwise -- Dinklange's character was nondescript and could have been played by almost any Joe Schmoe.) Overall, the film was a bit funny but its potential was sorely unfulfilled.
Christian C
Super Reviewer
I was rather disappointed, It felt a little too overused in its themes and did not have enough fun with its material, even thow the cast looked like they had a great time
Knights of Badassdom Quotes
| | |
| --- | --- |
| Eric: | I'm gonna stop saving your life's if you don't show me some fucking gratitude! |
Discussion Forum
Discuss Knights of Badassdom on our Movie forum!