Knuckle
(2011)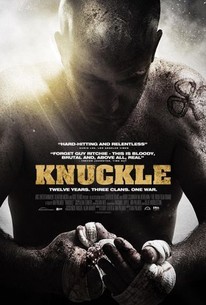 Movie Info
An epic 12-year journey into in the world of an Irish Traveller community, Knuckle takes us inside their brutal, secretive and exhilarating bare-knuckle fighting lives. Chronicling a history of violent feuding between rival families, the story focuses on two brothers as they fight for their reputations and the honour of their family name. Brutal, yet captivating and ultimately moving, this unforgettable documentary offers an exclusive insight into the world of Irish Travellers and the lengths they will go to protect their family name. -- (C) Official Site
News & Interviews for Knuckle
Critic Reviews for Knuckle
Audience Reviews for Knuckle
½
" Twelve years. Three clans. One war." An epic 12-year journey into the brutal and secretive world of Irish Traveler bare-knuckle fighting. This film follows a history of violent feuding between rival clans.
REVIEW
A real life Irish Fight Club? This brutally honest, raw and disturbing documentary uncovers a startling story of a family feud that follows a rather bizarre course. For several decades, the traveling Quinn McDonagh family has been fighting with their cousins the Joyces, in an ongoing feud that makes the Hatfield McCoy feud seem like a minor family spat. Although the origins seem hazy now, each generation seemingly is determined to keep the feud going. Every couple of years male members of these rival clans meet in some back road or remote farm yard to try and resolve their differences through bouts of bare knuckle fights. Essentially it's brothers fighting cousins, and some of these fights last for barely a few brutal minutes. Not only is family honour and masculine pride at stake, but there is also a substantial monetary prize for the winner. There are also rules to be observed, which are enforced by a couple of neutral referees. Documentary filmmaker Ian Palmer stumbled upon this fascinating story when he was invited to film a wedding by James Quinn McDonagh, the formidable leader of his clan. Even though he is now past his prime, James has never lost a bout.
Lorenzo von Matterhorn
Super Reviewer
Like many great documentaries, Knuckle was born out of something else. It originally began as a wedding video. Ian Palmer found something so interesting about his guests, he ventured further and discovered the world of Irish travelling bare knuckle boxing. Most specifically he follows the feud between two clans of the same family, The McDonaghs and the Joyces. So after that wedding video, Palmer ended up documenting this feud and these fights for 12 years. This extraordinary amount of time puts the whole thing into perspective about the needlessness and absurdity of violence. Many say the feud goes back 50 years, and yet nobody gives a straight answer as to its origins. People hold grudges and plan rematches 9 years down the line. It becomes obvious that fighting has become an addiction and a way of life for these poor men. They have nothing else to do. When we see the acclaim they receive from their families, it's easy to see why they have been so taken in by aggression. In the first fight James McDonagh says it will be his last, but it's far from it. He seems genuine about his wanting to quit, but he always ends up in another fight. Even the director talks about how he continued filming just for the thrill, and had lost sight of his documentary. Every fight is brutal in that realistic sense, and Palmer clearly paints a vivid picture of this strange world. Aggressive men, but loving husbands and fathers. Fights that are fought for lack of reason, but are controlled and fair with a sense of honour. Knuckle is the kind of film that lures you in with basic blood lust, but gives you a whole lot more.
Luke Baldock
Super Reviewer
Knuckle Quotes
There are no approved quotes yet for this movie.