Norwegian Ninja (Kommandør Treholt & Ninjatroppen)
(2010)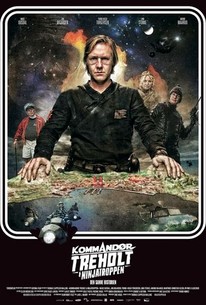 AUDIENCE SCORE
Critic Consensus: No consensus yet.
Movie Info
Recent Norwegian history and one of the nation's most notorious scandals are given a playfully surreal spin in this satiric comedy from filmmaker Thomas Cappelen Malling. Arne Treholt was a celebrated Norwegian diplomat who in 1984 found himself disgraced when he was accused of selling state secrets to the highest bidder. Treholt was found guilty and spent eight years behind bars before he was pardoned and freed. Treholt has always insisted he was innocent of all charges, and in Kommandor Treholt & Ninjatroppen, Malling imagines a scenario in which Treholt (played by Mads Ousdal) is a ninja warrior with powers of invisibility who leads a secret fighting force protecting their homeland against Cold War foes, represented by the sinister Meyer (Jon Oigarden), whose sympathies are clearly with the United States. As Treholt and Meyer wage a private war for control of Norway's hearts and minds, Treholt tries to turn slobby slacker Humla (Amund Maarud) into a suitable second-in-command. Norwegian Ninja received its American premiere at the American Film Institute's 2010 AFI Fest.
Critic Reviews for Norwegian Ninja (Kommandør Treholt & Ninjatroppen)
There are no critic reviews yet for Norwegian Ninja (Kommandør Treholt & Ninjatroppen). Keep checking Rotten Tomatoes for updates!
Audience Reviews for Norwegian Ninja (Kommandør Treholt & Ninjatroppen)
½
It's kind of a shame that this is inconsistent as it is, because there's some real moments of absurd genius in this film. For a guy, Thomas Malling Cappelen, that had absolutely no film experience prior to this, he already has a pretty good handle on style. The film's visual still feels very old-school. Very 80s-ish with some 50s sci-fi inspired cheap prop work. Some of the location shots are very clearly miniatures and there's some purposely cheap special effects. This is impressive for someone who's never done a film before, granted he was working off the book he wrote, so he probably had a better idea than anybody how he wanted his film to look and feel. And I think that's one of this film's positives, it truly feels like the work of an auteur. Thomas had a clear vision of what he wanted his film to be and he achieved it, so I respect that immensely. The presentation of the story is so ridiculous, so over-the-top. There's this organization called Stay Behind and they create terrorists attacks that they then blame on completely innocent, but communist, countries in order to show Norway, and its ignorant masses, the dangers of said viewpoint. Then there's the Ninja Force, led by Treholt, who wishes to put a stop to this chicanery, even though the Stay Behind people have evidence of him conversing with KGB operatives. It's all very goofy, but there's a hint of realism in that they actually use real life incidents in order to tell the story, that gives the events, however ridiculous they may be, an air of authenticity. It also helps that they use real life news broadcasts from the era. Problem is that I don't think the film finds a consistently funny tone. There's some really funny moments here, like every time Treholt materializes out of nowhere from a puff of smoke. He completely trivializes this "power". But he's stupid enough to not use the power when he really does need it, like when Bumblebee, near the end, is in danger. Instead of just materializing and getting them both out of there in a second, Treholt chooses to run in, taking forever, in order to save Bumblebee. You may not even notice it, but it is a subtle bit since Treholt uses this power to gain entrance to a strip club. Using it when he doesn't even need to. But the film doesn't really find a consistent tone and it's hoping that the style is enough to keep you interested. It did hold my interest, but I just wish the film had been consistently funny, instead of just bits here and there. That's really why the film got the rating it did, because this is goofy fun and it completely flies by. That's another thing, the film moves at an incredibly rapid pace, even for how short it is. There's no wasted moment here, it's short and to the point. That's another aspect of the film I have to respect. It doesn't overstay its welcome at all. It's in and out, like a ninja. This is a flawed film if we're going to be honest, but I had a lot of fun watching it in spite of its weaker aspects. I really wouldn't mind to see a sequel, keep the absurdity, the visual style, the purposely cheap props, but just refine the script and make it better. I would actually really like a sequel, seeing what can be done with this character and his stupid adventures. Not a great movie, but I had a good time watching this.
Jesse Ortega
Super Reviewer
Norwegian Ninja (Kommandør Treholt & Ninjatroppen) Quotes
There are no approved quotes yet for this movie.