Kong: Skull Island
(2017)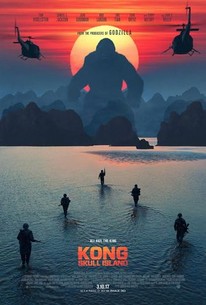 TOMATOMETER
AUDIENCE SCORE
Critic Consensus: Offering exhilarating eye candy, solid acting, and a fast-paced story, Kong: Skull Island earns its spot in the movie monster's mythos without ever matching up to the classic original.
Kong: Skull Island Videos
Kong: Skull Island Photos
Movie Info
Warner Bros. Pictures and Legendary Pictures' "Kong: Skull Island" reimagines the origin of the mythic Kong in a compelling, original adventure from director Jordan Vogt-Roberts ("The Kings of Summer"). In the film, a diverse team of explorers is brought together to venture deep into an uncharted island in the Pacific - as beautiful as it is treacherous - unaware that they're crossing into the domain of the mythic Kong. "Kong: Skull Island" stars Tom Hiddleston ("The Avengers," "Thor: The Dark World"), Samuel L. Jackson ("The Hateful Eight," "Avengers: Age of Ultron"), Oscar winner Brie Larson ("Room," "Trainwreck"), John Goodman ("Transformers: Age of Extinction," "Argo") and John C. Reilly ("Guardians of the Galaxy," "Step Brothers"). The international ensemble cast also includes Tian Jing ("Police Story: Lockdown"), Corey Hawkins ("Straight Outta Compton"), Jason Mitchell ("Straight Outta Compton"), John Ortiz ("Steve Jobs"), Thomas Mann ("Beautiful Creatures"), Shea Whigham ("The Wolf of Wall Street"), Toby Kebbell ("Dawn of the Planet of the Apes") and Eugene Cordero ("The Kings of Summer"). Vogt-Roberts is directing the film from a screenplay by Max Borenstein, John Gatins, Dan Gilroy and Derek Connolly. "Kong: Skull Island" is produced by Legendary's Thomas Tull and Jon Jashni with Mary Parent. The executive producers are Eric McLeod and Alex Garcia. The creative behind-the-scenes team includes director of photography Larry Fong ("Batman v Superman: Dawn of Justice"), production designer Stefan Dechant (supervising art director "True Grit," "Avatar"), editor Christian Wagner (the "Fast & Furious" films), and costume designer Mary Vogt (the "Men in Black" films). The team also includes Oscar-winning makeup supervisor Bill Corso ("Lemony Snicket's A Series of Unfortunate Events," "Star Wars: The Force Awakens") and supervising stunt coordinator George Cottle ("Interstellar," "The Dark Knight Rises"). The legendary Kong is being brought to life at a whole new scale by Industrial Light & Magic, with two-time Oscar winner Stephen Rosenbaum ("Avatar," "Forrest Gump") serving as visual effects supervisor. To fully immerse audiences in the mysterious Skull Island, director Jordan Vogt-Roberts and his cast and filmmaking team are filming across three continents over six months, capturing its primordial landscapes on Oahu, Hawaii - where filming commenced on October 2015 - on Australia's Gold Coast, and finally in Vietnam, where filming will take place across multiple locations, some of which have never before been seen on film. Warner Bros. Pictures and Legendary Pictures Present a Legendary Pictures Production, "Kong: Skull Island." The film will be released worldwide in 2D, 3D in select theatres, and IMAX beginning March 10, 2017, from Warner Bros. Pictures, a Warner Bros. Entertainment Company.
News & Interviews for Kong: Skull Island
Critic Reviews for Kong: Skull Island
Audience Reviews for Kong: Skull Island
Skull Island doesn't even try to go the "white woman on Empire State Building" path but instead offers a wild, violent and funny survival monster movie with lots of monsters, action and carnage. The actors are great and create interesting characters, especially John C. Reilly rules every scene he's in. The film doesn't even try to be more than a huge monster mash, there are few subtle tones, but plenty of great effects, creepy beasts and locations. When it comes to a fun ride and monster screen time this film wipes the floor with the most recent "Godzilla". It'll be interesting to see how their big meeting will turn out in a couple of years. The post-credits scene already hints at it.
½
Kong: Skull Island is a mindless popcorn flick but it's still pretty entertaining. This is a lot less ambitious than previous interpretations. Kong's noble savagery is still apparent, but the main thrust of this action is little more than monsters run amok. The original fantasy had a self-contained plot with a poignant message. This entry exists as an intro to a beast that will go on to star in more installments. That modifies the narrative in a pretty significant way. In more cosmetic changes, the production is envisioned as a period piece as it moves the time frame back to 1973. 70s rock music blares on the soundtrack as helicopters loom in search of a mysterious figure in the jungle. Allusions to a certain Francis Ford Coppola directed war film are deliberate. Yet, I'm still not sure whether it's intended to be so intellectually shallow. I suppose there's joy in the simplicity of just the spectacle. Let's put it this way, the less you think about it, the better it gets. fastfilmreviews.com
Mark Hobin
Super Reviewer
World building has become a big thing for Hollywood lately. Marvel specializes in character crossovers and other studios seem to be following suit. Whether it be the rumours surrounding the joining of G.I. Joe and Transformers, the already growing DC extended universe, or the new and upcoming monster-verse, it's pretty clear that we are in the age of shared universes. Kong: Skull Island isn't necessarily a crossover event by any means, but its sole purpose is to set-up a supposed Kong vs. Godzilla film in the coming years. As a film itself, I'm not quite sure it lives up to the hype that everyone has been placing on this film. Sure, the visuals are breathtaking and the cinematography is pretty great, but the film itself is quite the disappointment overall. Here is why I believe Kong: Skull Island is disposable popcorn entertainment at best. Following a team of individuals as they travel to a mysterious never-before-explored island, they discover the beast of King Kong. Trying to survive while also realizing that he may not be the monster they all fear, a new threat begins to arise, for both Kong and the humans. Sound familiar? That's because this story has been done many times with all of these elements present in some shape or form. The main issue is the fact that it gets right into the action, showing him mere minutes into the picture. Giving no sense of fear, this film jumps right into the action, leaving very little time for character development. Although there are a few compelling character moments, they are too far and in between one another to be remembered. Like 2014's Godzilla, Kong: Skull Island has an even larger array of disposable characters. The effort was much stronger here, as many of these characters have their moment to shine, even though they try to give even the least developed characters a moment to shine, which falls completely flat. To add to these complaints, there are endless jokes that fall flat. There is quite a bit of humour that is attempted here, but most of it comes out of nowhere and seems desperate. Aside from John C. Reilly, most of the actors seem to be trying really hard to make audiences laugh, which bugged me immensely. Kong: Skull Island is undeniably beautiful to look at, but there are clearly some moments of an overuse of CGI. When it comes to films like this, that's obviously to be expected, but when you are connecting yourself to a film like Godzilla that has much more impressive visuals, there will be some issues in the connection. To be fair, the action involving the titular character was absolutely awesome, and like Godzilla, worth the admission price alone. Throughout this film, I found myself more interested in seeing the action, due to the fact that these characters were around to crack jokes and get killed. That being said, you do have to wait quite a bit for that to occur. In the end, Kong: Skull Island isn't quite the masterpiece that the trailers make it out to be. From the incredible cinematography (which is present in the film), to the awesome fight sequences (which are also present), most of the note-worthy moments are used in the trailer. With disposable characters, a plot that is very thin, and a titular character that doesn't quite have enough screen time to fully please fans, I honestly can't recommend rushing out to see this film, unless you are a huge fan of this genre. Kong: Skull Island benefits from a solid cast, a few great action sequences, a stunning look to the titular character, and a very fun third act. That being said, this film is pretty much a letdown on everything is promises. There is some fun to be had and it's not a bad film in any way, but a film like this could have been so much better.
Kong: Skull Island Quotes
There are no approved quotes yet for this movie.
Discussion Forum
Discuss Kong: Skull Island on our Movie forum!