Kong: Skull Island
(2017)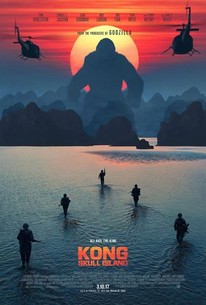 TOMATOMETER
AUDIENCE SCORE
Critic Consensus: Offering exhilarating eye candy, solid acting, and a fast-paced story, Kong: Skull Island earns its spot in the movie monster's mythos without ever matching up to the classic original.
Kong: Skull Island Videos
Kong: Skull Island Photos
Movie Info
Warner Bros. Pictures and Legendary Pictures' "Kong: Skull Island" reimagines the origin of the mythic Kong in a compelling, original adventure from director Jordan Vogt-Roberts ("The Kings of Summer"). In the film, a diverse team of explorers is brought together to venture deep into an uncharted island in the Pacific - as beautiful as it is treacherous - unaware that they're crossing into the domain of the mythic Kong. "Kong: Skull Island" stars Tom Hiddleston ("The Avengers," "Thor: The Dark World"), Samuel L. Jackson ("The Hateful Eight," "Avengers: Age of Ultron"), Oscar winner Brie Larson ("Room," "Trainwreck"), John Goodman ("Transformers: Age of Extinction," "Argo") and John C. Reilly ("Guardians of the Galaxy," "Step Brothers"). The international ensemble cast also includes Tian Jing ("Police Story: Lockdown"), Corey Hawkins ("Straight Outta Compton"), Jason Mitchell ("Straight Outta Compton"), John Ortiz ("Steve Jobs"), Thomas Mann ("Beautiful Creatures"), Shea Whigham ("The Wolf of Wall Street"), Toby Kebbell ("Dawn of the Planet of the Apes") and Eugene Cordero ("The Kings of Summer"). Vogt-Roberts is directing the film from a screenplay by Max Borenstein, John Gatins, Dan Gilroy and Derek Connolly. "Kong: Skull Island" is produced by Legendary's Thomas Tull and Jon Jashni with Mary Parent. The executive producers are Eric McLeod and Alex Garcia. The creative behind-the-scenes team includes director of photography Larry Fong ("Batman v Superman: Dawn of Justice"), production designer Stefan Dechant (supervising art director "True Grit," "Avatar"), editor Christian Wagner (the "Fast & Furious" films), and costume designer Mary Vogt (the "Men in Black" films). The team also includes Oscar-winning makeup supervisor Bill Corso ("Lemony Snicket's A Series of Unfortunate Events," "Star Wars: The Force Awakens") and supervising stunt coordinator George Cottle ("Interstellar," "The Dark Knight Rises"). The legendary Kong is being brought to life at a whole new scale by Industrial Light & Magic, with two-time Oscar winner Stephen Rosenbaum ("Avatar," "Forrest Gump") serving as visual effects supervisor. To fully immerse audiences in the mysterious Skull Island, director Jordan Vogt-Roberts and his cast and filmmaking team are filming across three continents over six months, capturing its primordial landscapes on Oahu, Hawaii - where filming commenced on October 2015 - on Australia's Gold Coast, and finally in Vietnam, where filming will take place across multiple locations, some of which have never before been seen on film. Warner Bros. Pictures and Legendary Pictures Present a Legendary Pictures Production, "Kong: Skull Island." The film will be released worldwide in 2D, 3D in select theatres, and IMAX beginning March 10, 2017, from Warner Bros. Pictures, a Warner Bros. Entertainment Company.
News & Interviews for Kong: Skull Island
Critic Reviews for Kong: Skull Island
Audience Reviews for Kong: Skull Island
½
It is hard to care about anything in this visually aseptic (yet occasionally enjoyable) monster movie whose CGI is so artificial that it feels like watching someone play video game - including an awful excess of lens flares and too much boring action for very little substance.
Carlos Magalhães
Super Reviewer
½
Unlike it's predecessors Skull Island isn't a Hollywood fusion of romance, drama and action. Rather It's definitely a Monster flick through and through. I think the simplicity in the Kaiju-bashing genre in conjunction with the movies approach in direction is what makes this work. Without the skills of Vogt-Roberts this reiteration just might have been a dud, there are definitely notable stylistic choices in camera use, visuals and music that makes this film stand out. It also helps to have an all-star cast that knows what they are doing. The humans are there to facilitate Kong who's the real lead of the story, but these actors know how to add just enough character to their roles to engage the viewer. Kong works by being exactly what it has to be and not overreaching. Although someone will have to explain what justified hiring Tian Jing to be a sex doll on the set.
Drake Tsui
Super Reviewer
½
Jordan Vogt-Roberts digs out a trek across uncharted territory in Kong: Skull Island. Nearly 2 hours goes by before the calm returns to the island. There is a pretty decent pace pushing the story along, but it hurts the character development to a certain extent. Part of it is there are too many characters to work with and follow. Another part is there are a plethora of monster scenes that there isn't enough time spent with all the humans. The action is destructive and massive. There is no shame in showcasing Kong on screen and this is a good thing. Kong displays his power against the skullcrawlers. Of all the human characters, Samuel L. Jackson and John C. Reilly offer up the most interesting performances. Kong gets much on love screen, probably even much more than any of the humans. Kong: Skull Island drops the seismic charges and delivers an explosive traverse across the island.
Kong: Skull Island Quotes
There are no approved quotes yet for this movie.
Discussion Forum
Discuss Kong: Skull Island on our Movie forum!