Kotch
(1971)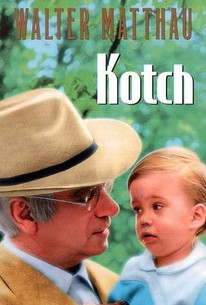 Movie Info
Joseph P. "Kotch" Kotcher is an irksome 72-year-old who lives with his son and daughter-in-law. When he learns the family's former babysitter Erica is pregnant, Kotch loans her some money; and when she moves away to Palm Springs, he moves in with her, hoping to be of some use.
Rating:
PG
Genre:
, ,
Directed By:
Written By:
In Theaters:
On DVD:
Runtime:
Studio:
ABC
Audience Reviews for Kotch
½
It's ok but the real reason to watch is for Matthau's tamer than usual performance and Deborah Winters' really great performance
Kyle Bailey
It's very interesting to see Lemmon direct for the first and only time and decide to go with Matthau rather than an aged actor. Matthau of course always looked old but here he sometimes hits the mark and other times doesn't. I wonder if the lukewarm result prompted Lemmon not to direct anything else.
John Ballantine
Super Reviewer
Grandpa Kotch (Matthau) may be widowed and old, but he's plenty young in mind, body and spirit. The only problem is that his family members (and everyone else) are too involved in their own lives to take much interest in knowing someone who's - well, old. So Matthau spends his days having his chattiness and compassion ignored. When daughter-in-law nudges Matthau out of the guest room and into a 'retirement village,' Matthau instead slips away, Greyhounding up the coast to British Columbia, dropping postcards back home to his baby grandchild. Matthau eventually stumbles into the life of a pregnant, unwed teenager (Winters), who's been shuffled away to another town, cast off in shame by everyone, to give birth alone. It was an all-too-common, now all-but-forgotten, practice. Matthau sure knows how it feels to be shuffled away by loved ones - so he ever-so-gently takes Winters under his wing. In so doing, he slowly forges for himself a new life where some are pleased to call him friend. Heartwarming, quaint, poignant are fair adjectives regarding Matthau's delivery, sometimes almost saccharine. Think Hallmark. Matthau's life-long career pal Jack Lemmon directs; the film plays so gentle since this project's really all about Lemmon showcasing his dear friend's talent with respect, love and admiration, as a gift from one true friend to another. There's a lovely reoccurring idee fixe called "Life Is What You Make It" from the keyboard of Marvin Hamlisch which, somehow, has been as passed over by time as this film. Straight out of the early 1970s and it shows; this has to be the last time in the history of cinema where a film portrays a doctor making a house call. Twice. RECOMMENDATION: A warm tribute to the talent that was Matthau. Enjoy.
TonyPolito Polito
Kotch Quotes
There are no approved quotes yet for this movie.