Krakatoa East of Java
(1969)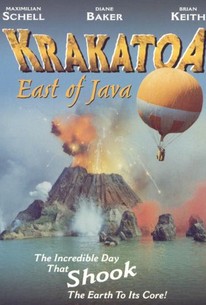 Movie Info
Volcano is the reissue title of the muddled disaster flick Krakatoa: East of Java. The name change was reportedly put into effect after thousands of filmgoers noted publicly that Krakatoa is west of Java. As might be expected, the story takes place in 1883, when the long-dormant volcano at Krakatoa erupted with A-bomb force. Since everyone knows what's coming, the filmmakers try to stir up suspense with a gratuitous subplot involving ship's-captain Maximilian Schell and his mutinous crew (a similar plot device had been used in a previous dramatization of the Krakatoa incident, 1953's Fair Wind to Java). The climactic special effects are spectacular enough to make the script, and the all-star cast (including Diane Baker, Brian Keith, Rossano Brazzi, and Sal Mineo), seem utterly superfluous.
Critic Reviews for Krakatoa East of Java
All Critics (6) | Fresh (0) | Rotten (6) | DVD (1)
The script by Bernard Gordon and Cliff Gould is a man-made disaster.
Spectacular, colorful, and really nothing to it. And Krakatoa is WEST!
October 15, 2004 | Rating: 2/5
Audience Reviews for Krakatoa East of Java
Let's leave aside the small problem of one of Karkatoa which is actually being west of Java,instead of East. Another problem not being fictional here about one of the greatest disasters ever witnessed by man. The epic 1969 adventure saga was basically the last wave of films to be produced in Cinerama 70(that were released during the late 1960's)and also very entertaining of the big budgeted "Panavision" films that exploded during that era. The movie is about treasure hunters who encounter the volcanic island just as it blows apart and who then get bounced around in the ensuing tidal wave that is so technically impressive if narratively lame. The tidalwave sequence alone is worth the price of admission. Here various characters faced certain dangers above on the island and below the depths of the ocean including one horrifying sequence with one of the characters facing a monster squid. An interesting cast of famililar actors(which includes Maximilian Schell,Diane Baker,Brian Keith,Rossano Brazzi and Sal Mineo)portray the mixed group of adventurers,but the script and dialogue are so pathetically weak one just wants to get past the high drama on the high seas and the watch the geological fireworks,since fortunately they make quite a show. Not to mention some bathing beauties too in some great underwater sequences. Basically this movie came out in the summer of 1969 and was released thru Cinerama Pictures and ABC Pictures(yes,the American Broadcasting Companies motion picture division)and distributed by MGM.
Mister Caple
Super Reviewer
Krakatoa East of Java Quotes
There are no approved quotes yet for this movie.