Kraken: Tentacles of the Deep
(2006)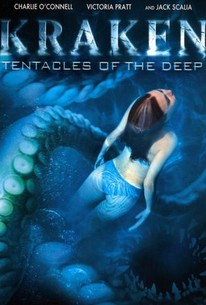 AUDIENCE SCORE
Critic Consensus: No consensus yet.
Kraken: Tentacles of the Deep Photos
Movie Info
The made-for-television Kraken: Tentacles of the Deep stars Charlie O'oConnell as Ray, a man who lost his parents as a boy when they were eaten by a sea monster. Now as an adult, Ray plans to get his revenge while stealing a valuable jewel the monster hides.
Critic Reviews for Kraken: Tentacles of the Deep
Audience Reviews for Kraken: Tentacles of the Deep
½
A far cry from the worst SyFy Creature Feature I've ever seen. Also a far cry from a good movie.
Not-bad SciFi channel production, which is a double-edged sword: not exciting nor high production enough to stand out, and too competent to enjoy as a bad movie like, say, Mega Shark Vs. Giant Octopus. That leaves a passable yet unremarkable creature feature. I watched this for Victoria Pratt, star of silly sci-fi TV shows Mutant X and Cleopatra 2525. She's a solid action performer with enough acting chops to make her characters believable. And speaking of solid, her body is the blueprint of ultimate fitness while still retaining femininity. A waste that she plays the role of doctor in distress since she could easily clobber the bad guy (a grayhaired guy with a cane for god's sake) single-handedly. Oh well, at least as an oceanographer she still gets the swimsuits. Her hero-for-hire Charlie "I'm Not Jerry, But Only Barely" O'Connell also performs decently, while an upgrade of the antagonists would have helped.
Doctor Strangeblog
Super Reviewer
Kraken: Tentacles of the Deep Quotes
There are no approved quotes yet for this movie.