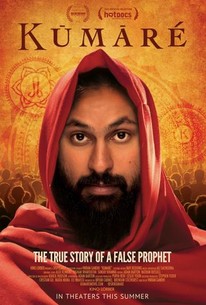 Kumaré
2011, Documentary, 1h 24m
25 Reviews
1,000+ Ratings
Where to watch
Rent/buy
Rent/buy
Rate And Review
Movie Info
Lapsed Hindu Vikram Gandhi conducts an experiment, in which he poses as a guru and attracts a number of devotees, but unexpectedly finds that his followers are receiving genuine benefits from his deception.
Genre: Documentary

Original Language: English

Director: Vikram Gandhi

Release Date (Theaters): original

Release Date (Streaming):

Box Office (Gross USA): $129.6K

Runtime:

Distributor: Kino Lorber
News & Interviews for Kumaré
Audience Reviews for Kumaré
Kumare is a solid documentary that challenges peoples' need to follow. Vikram, the man who becomes Kumare proves that people do not need a religion or cult or even another person to follow because we can all be our own leaders and control our own destinies. He does this by calling himself a guru from India, when in fact he is an American from New Jersey. It's a very good idea for a documentary, and it's well executed.

In Kumare, Vikram Gandhi sets out to prove how faulty the idea of a guru is, and seeks to illustrate his point by becoming one himself. What ensues is an undeniably interesting documentary that examines the new age phenomenon and why people gravitate toward supposed teachers when, in reality, all the necessary changes comes from within. I appreciated the experiment itself, with Vikram doing a strong job embodying a guru, but in a way in which deception is minimized. The way Vikram set about his experiment was to have his 'followers' project on to him as much as possible, which gave the documentary a certain validity to it. As a film, Kumare never ceases to be entertaining. There are a number of moments of intended and unintentional humor, and the subjects' reactions are often priceless. As a commentary on the whole new age movement, Kumare is also successful, having some insightful things to say. I do wish he had been more expansive in his examination, however, as he seemed a bit too dismissive of some of the more cult-like aspects of the groups he visited. Had he spent more time on the psychology of both the groups, gurus, and follows in general, as well as the tactics employed, Kumare would have had more of an impact. As it stands, a short, albeit interesting, and enjoyable special interest documentary. 3.5/5 Stars

This documentary deals with an experiment done by the director Vikram Gandhi. He decided to pretend to be a yogi guru and presented himself as someone he wasn't, he tricked an entire gaggle of people into believing he was a thoughtful and insightful man of the East. In actuality the man behind this simple ruse was a man of Indian descent who was born and raised in New Jersey, who originally was out to make a film about the gurus of his native country. After visiting India he realized that they were all corrupt and not truthful which lead people into poverty and ruin. These gurus were not specifically religious leaders, but the devotion exhibited by their followers was in the same vein as a leader, and Gandhi took this concept and decided to explore it further. He grew out his hair and beard to long lengths, wore traditional Indian clothing, and spoke with an Indian accent, which he took from his grandmother. He went to Arizona, and soon afterwards a legion of followers cropped up. The rest of the film is Gandhi coming up with his own mantras, tricking people into learning his teachings, making up symbols to put on their foreheads, and giving them sage advice. After a while he distances himself from trying to trick these people and actually bonds with them thanks to them opening up to him. He gives them the same teachings to ponder, like any other guru, but over time he tries to get them to understand that they don't need a guru. What they needed, all along, was themselves, and as he gains some hardcore followers at a yoga studio, they come into his life, he goes into theirs and they both help each other. He severs the ties that bind them, eventually, so that they can move on. As a moral debate on whether you should be able to trick people, this film comes in handy. Many people are split on how they feel about the tricks that Gandhi uses, but at the end some people actually understand what he was trying to do, and thank him. If you believe this is going to be a joke documentary about people's stupidity, it's not. It's simply about how we can find self-happiness without the intervention of self-proclaimed medicine men of the mystical East.

By the end, I was cringing for the man and his 14 followers who came to deeply trust him. In the beginning, these people were film props being used by a young and ignorant filmmaker to document (or perhaps poke fun of) American spiritual culture. He draws a not-so-subtle symbol of a man's genitals on their foreheads while telling them candidly it's "a penis," which is contextually so outlandish that they naturally assume he is saying "happiness" in his thick accent. Throughout the film, he continues to hide in plain sight, admitting upfront time and again that he is not a teacher. This strange honesty only endears him to his followers, and as the connection between the students and Vikram's alter ego grow, he grows concerned over the potential emotional devastation from his deceit. At the same time, it is through his deeply intimate experience with these students that Vikram finds a sincere and simple message of healing and growth that offers his conscience some salvation. The brilliance is that the students who truly internalized their teacher's message should not care on a spiritual level when they discover he's actually a filmmaker from New Jersey. They are given the truest possible test of their understanding. On a personal level however, he certainly is at their mercy. Hopefully they recognize in this film that he grew as a human being just as much as they did, and that he would obviously not wish to do that to someone ever again. Then again, releasing the film could be considered another act of betrayal.
See Details